How CareerStep Can Help You Get Hired
Posted on 05.17.2023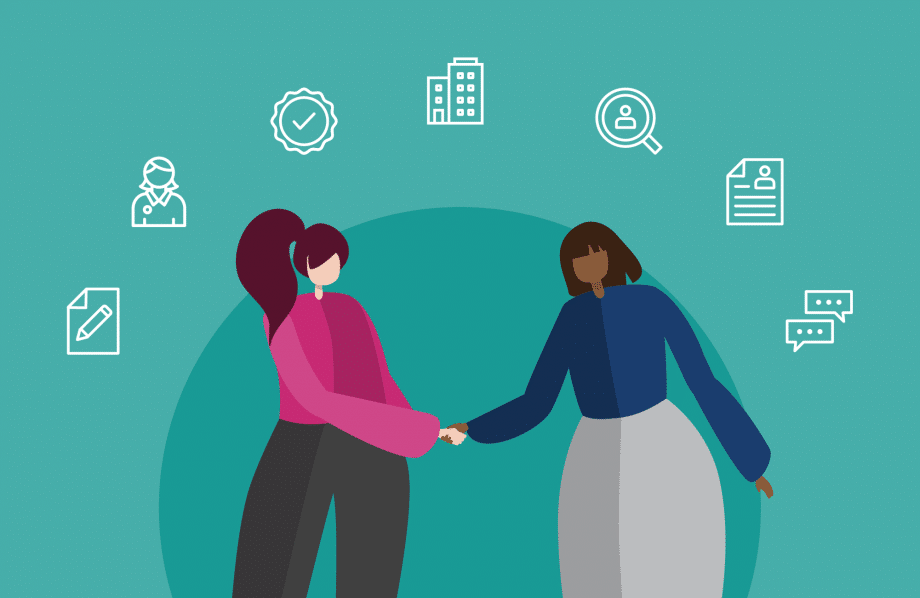 6-Minute Read
These days, you don't need to invest time and money in a four-year college degree to get a good job. More and more employers are hiring based on skills and credentials. There are plenty of in-demand jobs that only require some formal training and industry certification, especially in the healthcare field! Besides helping you prepare to build the skills employers are looking for through our career-focused courses, CareerStep is also dedicated to helping you be successful after you get certified. Here's how.
Get Training For In-Demand Jobs
When you're considering pursuing a training program, you want to make sure that the work – and money – you're putting in will pay off. Focusing on programs that can help you prepare for an in-demand job is one of the best ways to see a return on your investment!
Right now, jobs in healthcare are some of the most in-demand roles out there, with the Bureau of Labor Statistics predicting there will be about 2 million new positions added to the industry over the next decade. Added to the expected growth in the industry, there's a shortage of healthcare workers in a variety of roles, from medical assistants and home health aides to mental health professionals. We'll need at least 3.2 million additional healthcare workers to meet the demand in the next five years. What this all means is that, if you're looking to start a new career that offers plenty of opportunities to find a job, healthcare is one of the best industries to explore.
But you can't necessarily just decide you want to work in the medical field, apply for a job, and get started. Most healthcare jobs require some formal training, and many employers want to hire workers who are certified. However, you don't have to get a college degree and spend years in school preparing for a medical career! With training programs like those offered by CareerStep, you can take the first steps toward an in-demand job in less than a year and get certified.
Our online, self-paced programs are designed to help learners like you take that first step toward these in-demand jobs through courses that focus on the skills you'll need to succeed. And most of our programs help you prepare to sit for industry-recognized certification exams so you can stand out in a competitive labor market. Here's how our healthcare training programs can help you build skills, get certified, and feel confident that you can qualify for a new career.
Read more: 5 Resources to Boost Your Career
1. Support from Success Advocates who know what hiring managers are looking for
Learner success is one of our core values. It's at the heart of everything we do. That's why, for us, job prep starts on the first day of sign-up. After all, when you're investing in training and education, you want to make sure it can get you where you want to go! To make sure that you are confident that you're learning the skills that are relevant to the job you're interested in, our programs and courses are designed by industry experts – people who've worked in healthcare and know what they're talking about – and aligned to industry certification exams.
No matter which program you choose, you'll focus on learning the skills that are relevant to the job you want and have the knowledge that can help you gain the certifications many employers look for.
You'll also have access to Success Advocates (experts with insider knowledge) who are qualified to answer questions and offer personal consultations to help master specific concepts. They know what hiring managers are looking for, and they're there to make sure you absorb all the information you need to apply for jobs with trust and confidence.
Read more: Job Prep: What Position Am I Qualified For?
2. Partnerships with hiring companies
CareerStep has been providing quality healthcare training since 1992. For nearly 30 years, we have been working to form connections and strengthen our partnerships with recognizable brands such as Walgreens, Excela Health, and Humana. Our close relationships with these companies helps us connect you with potential employment opportunities.
Read more: 3 Ways to Sell Yourself in a Healthcare Job Interview
3. Help after certification to help you get hired
One of the greatest benefits of training with CareerStep is our end-to-end support. Our Success Advocates are qualified and ready to help you with things like interview preparation, job search tips, and much more. Other Career Support services include the following:
New job opening notifications
Individual resume and cover letter reviews, tips, and advice
Learner Community access
All of these services are focused on catering to you as an individual. Looking to upskill in your current role? We can help. Want to get your foot in the door with a particular health system in your area? We can help. Want to connect with other learners who share similar goals and interests? We can help with that, too. Through our career services and resources, you can connect with potential employers, update and perfect your resume, learn interview tips and tricks, and more!
Read more: Simple Tips to Start Your 5-Year Career Plan
Start preparing for the perfect job for you today
With CareerStep, you don't have to wait to take the next steps toward reaching your career goals. You can sign up and get started as soon as you're ready! With our self-paced courses, there are no applications, enrollment deadlines, or exam due dates – you can train whenever and wherever works best for your life. Not sure which program is right for you or want to know more before you get started? Reach out to us by calling 1.800.411.7073 so we can help!