5 Must-Haves to Keep at Your Desk
Posted on 09.28.2016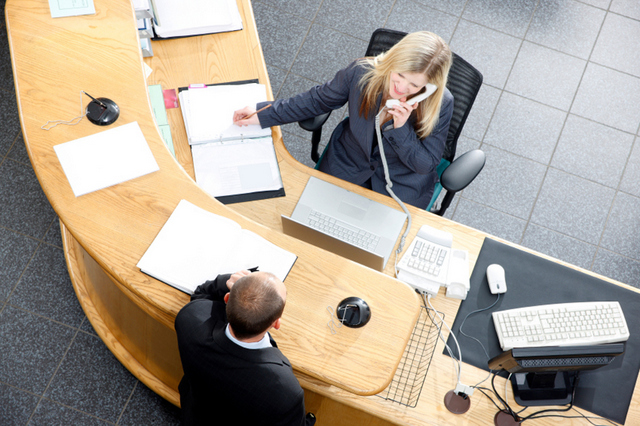 Stellar executive assistants are a bit like Swiss Army Knives: ready to tackle any number of problems at any given moment. As an executive assistant, you're likely to spend most of your day in the office, and things are going to happen that require quick fixes.  But if you're prepared, you'll be able to avoid frustration, anxiety, and embarrassment.
Lint brush
To keep your outfit and your executive's in tip-top shape, an office lint brush is essential to ensure that you're both presentable, even if you have gone home for lunch in your snazzy outfit to play with Fido. No one likes to stand in front of a meeting looking like their pants are made out of llama fur. The lint brush is also helpful to remove the dust that comes from climbing in and out of vehicles, human hair, and fuzz if your dryer wasn't particularly nice to your shirt or pants.
Extra charging cables and portable power banks
Most people expect to be able to juice up their devices whenever and wherever needed. To that end, you will be the most popular executive assistant around if you keep a small charging kit at your desk. It doesn't have to be anything special—the most useful charging cables and a couple of portable power banks can suffice. That way, you can pass one to your executive so he or she can charge mobile devices while in that 4-hour planning meeting. You can even find cables that have multiple tips to fit almost any device. Check out this cool one from Amazon. In addition, portable power banks are pretty inexpensive now, so pick up a couple with 12,000 mAh capacity, and you'll be golden. Anker makes excellent power banks at great prices, though many other brands also receive top ratings.

Extra blazer and a Tide pen
We've all had a wardrobe malfunction or a food malfunction at work that might call for a clothing backup. You also never know when you might need to dress up your outfit quickly. Keeping a spare sports jacket or blazer around can definitely help you out in a pinch! Even better? Keep a blazer and spare shirt for your boss neatly folded in one of your drawers. When that burrito fights back or the CEO drops in unexpectedly, you'll be the hero of the day. Along those same lines, a Tide pen (or similar instant stain remover) is a lifesaver when it comes to quick fixes. I've gone through several Tide pens, and they are pretty awesome at rescuing your clothing from certain destruction.
Emergency pill kit
Most offices keep standard first aid kits, but they often lack vital items like cold medication. That's where you can come to the rescue! No need to run to the store in an emergency if you're already prepared! People spend most of their week at work, so migraines, "that time of the month," colds, allergies, food poisoning, etc. will happen at the office. It's good to be prepared with an easy-to-replenish kit. I would suggest keeping cold meds, pain pills, Emergen-C/Airborne, and some Pepto-Bismal in your kit as a starting point. You may find that other things are requested, and you can add to your arsenal over time, but those items cover the basics.

Extra pair of shoes
Some executive assistants spend much of their day hustling around the office. Have you ever had a heel break off your shoe or been stuck in nasty weather with only uncomfortable footwear? Not fun. Keeping a pair of more sensible shoes at your desk can provide a comfortable solution.  If you work in an area where poor weather occurs at the drop of a hat, keeping a pair of appropriate footwear at your desk allows you to wear those brightly colored galoshes to the office and switch out once you're inside.
As you settle into your executive assistant position, you may find other items you have need of at your desk, but we hope this list gets you started. Be prepared, and you'll avoid a lot of headache and frustration. Do you have any suggestions for things you like to keep at your desk for you or your executives? Leave them in the comments below.