Balancing Your Homeschooling as a Medical Transcription Editor
Posted on 07.28.2020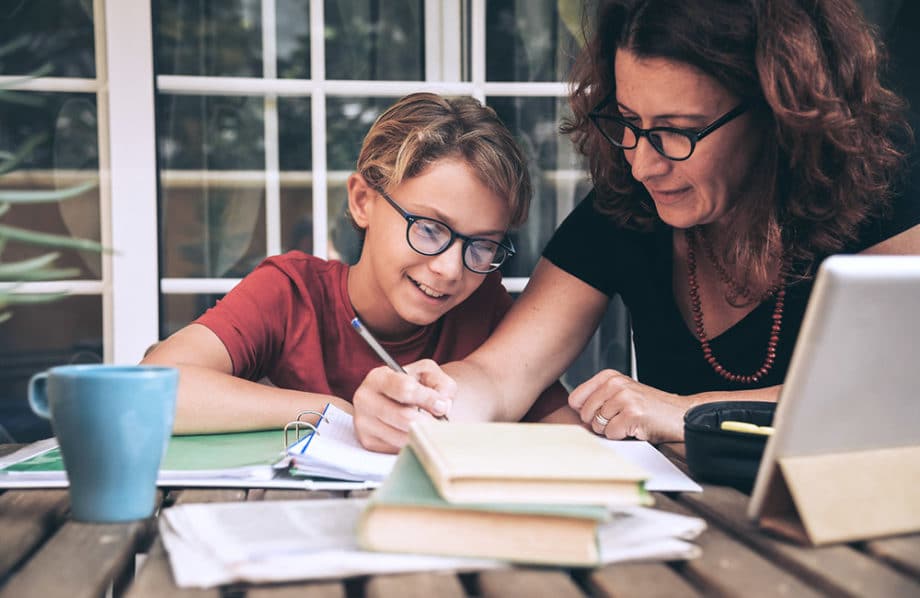 3-Minute Read
When you work as a certified medical transcriptionist, one of the most significant benefits is working from home. This flexibility makes it one of the most popular job training programs for adults, especially for working parents.
But, sometimes life throws you a curveball. With the prevalence of COVID-19, many parents now find themselves trying to work from home and homeschool their children at the same time. And, as you may have discovered, there isn't career training for this situation.
The good news is that you can balance your homeschooling and your career as a medical transcription editor, even if it takes a little practice. Here are a few tips to get you started.
TL;DR
Don't have time to read the whole piece? No problem. Check out our key thoughts below:
Creating a flexible schedule might be more complicated than you think. When it comes to your kids' school schedule, be sure to build yours around theirs. If something comes up, you can always pivot without cutting into their learning time.
Set boundaries through visual reminders, designated work hours and, 'do not disturb' zones throughout your home.
Support your child's self-sufficiency by setting up secondary tasks when they've finished their workload. It will promote their personal development and provide you with time to complete your own tasks uninterrupted.
Becoming a medical transcription editor with CareerStep allows parents to pursue a rewarding career while still being present in the home. Learn more below!
Get Organized, But Stay Flexible
With school and work both happening in the same space — and at the same time — it's important to get organized. As a parent, you've probably figured out that strict schedules are made to be broken. Instead, focus on building a daily rhythm.
Organize your work schedule around your children's school schedule. You'll work more effectively knowing that they are taken care of and working on their own projects. It will also help minimize distractions while you work. Be sure to organize your work assignments, too. Whether you use a calendar, to-do list, or an app to help you, find a system that works and stick to it.
Making the transition to homeschooling comes with a learning curve. Stay flexible, and stay positive.
Set Boundaries
With your daily rhythm in place, it's essential to set boundaries. Help your children understand that when you are working, you are working. Likewise, when you aren't working, set aside your projects and be present with your family.
Younger children sometimes need visual reminders to help them recognize when you're on the clock. You might designate a "do not disturb" zone in your house. Explain to your children that when you are working anywhere else, they are free to come and ask you for help, but when you enter the do not disturb zone, it means you need to be left alone for important work. Or, you might have a special "work hat" or "work sweater" that you wear to show when you are working and when you are not.
Help Kids Help Themselves
Homeschooling, like working from home, is flexible by nature. Your children may finish a project or assignment and find themselves wondering what to do next, which can lead to an interruption in your working hours.
Help your children help themselves by having a selection of activities prepared for whenever they need a break or need to kill some time while you finish a transcription assignment. Consider writing down a go-to list of ideas like art projects, reading books, writing stories, or playing a game. It can also be helpful to have snacks prepared, portioned, and available in your fridge or cabinet so your children can help themselves instead of interrupting you.
Working as a Medical Transcription Editor
If you aren't already working as a certified medical transcriptionist, you'll be happy to hear there are a lot of perks that come with the gig. Medical transcriptionists are in high demand, and most work from home and set their own schedules. Transcriptionists are paid based on production, so the more you work, the more you can earn — giving you greater control over your paycheck.
And, if you're wondering how to learn medical transcription, there's no better place to start than CareerStep's Medical Transcription Editor Career Training. Our program is designed by experts with decades of experience working in and teaching medical transcription. You'll learn everything you need to know to thrive in this exciting field:
Typing skills
Medical terminology
Grammar and punctuation
Anatomy and pharmacology
Medical record types and formats
Productivity tips