Is Online Training Right For Me?
Posted on 01.10.2017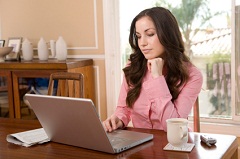 The conveniences of taking an online class are enticing.  The comforts of home versus battling traffic, securing a parking spot, and walking blocks across campus- all while carrying your computer and textbooks are just a few.
Before you commit to a virtual training program several considerations should be weighed to determine if online training is right for you.  To be successful with an online training program the student needs a basic understanding of the computer with some strong internet skills.
That being said, the ownership of a functional computer, along with internet access is a must!  As there is not likely to be face-to-face contact with the instructor or other students, the learner should be comfortable and confident at communicating via telephone, e-mail, chat rooms, forums, or whatever other methods the school offers. Joining the available community websites is recommended to interact with other students and to benefit from important program announcements.
Another essential skill for online training is time management. Some training programs have set class discussion times, others are more open and allow you to create your own schedule. CareerStep has self-paced training programs; they allow you set your own study schedule and progress at your own pace.  This luxury can become the nemesis of online training; it is essential to be self-motivated, responsible, and accountable as you progress through your training program.
Many find great success with online training programs! The U.S. Department of Education found on average, students in online learning conditions performed modestly better than those receiving face-to-face instruction. If you can use a computer, communicate well, manage your time and be self-motivated you are well on your way to potential success with an online training program.
Reference:
Means, B., Toyama, Y., Murphy, R., Bakia, M., & Jones, K. (2010).  Evaluation of evidence-based practices in online learning: A meta-analysis and review of online learning studies.  U.S. Department of Education. Retrieved from https://www2.ed.gov/rschstat/eval/tech/evidence-based-practices/finalreport.pdf