Tips for Success in Retail Pharmacy Practice
Posted on 09.08.2016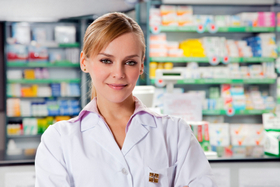 The CareerStep program is full of awesome learning activities!  If you haven't gotten there yet, you'll enjoy the simulated pill counter.  I was amazed at how much it was like the pill counter at Walgreens where I did my externship.  You'll see videos on how to fill capsules and make lozenges, as well as how to properly wash and dress and how to clean the LAFW hoods in a sterile institutional pharmacy setting.  However, I believe the activities that will help you the most, should you decide to extern and/or work in the retail pharmacy setting, are the retail pharmacy labs.
The purpose of these software-related labs is to familiarize you with the essential steps leading up to and including preparing prescriptions.  However, your focus should not be to master the software system.  Instead, your goal is to master the principles of using the software and what type of information you need when filling out a new patient profile, processing refills, and processing third-party claims.
Here are a few key points to remember to help you navigate through the module:
• First and foremost, make sure you are using FireFox as your internet browser. Pretty much every glitch you encounter will work itself out if you are using the right browser.
• It's much easier to view and enter the patient information into the software if you will open the training software in another window as instructed on page 21.  The text companion, if you have that, is great for reviewing the step-by-step instructions, but it doesn't have information for all of the patients.
• If there are worksheets you encounter in specific labs, make sure you print them and fill them out as you go along because you will need the information later on.  This is especially important when you're processing a prescription.  You will need the signa table from page 38 to enter the short codes into the Sig field.
Hopefully these key points will help you as you move through the Retail Pharmacy Practice module.  Once you have completed each lab, you will see a screen with your score and a completion code.  Don't forget to enter that code into each lab so you get credit for all your hard work!