The Evolution of Advanced Medical Transcription
Posted on 04.04.2016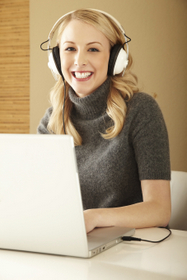 Every year Americans go to the doctor more than 928.6 million times. That's miles of cough-filled waiting rooms and a mountain of physician notes. Lucky for you, that also means nearly 1 billion opportunities for medical transcription. Medical Transcription is the process of converting doctor dictations into accurate patient records. Here's a little history on the medical transcription industry and how it has evolved through the years to stay relevant in our tech-filled healthcare age.
Evolution of Tools: Dictation to Speech Recognition
The medical transcription job description of the 1960s hardly resembles the advanced medical transcription job descriptions we see today. At its inception in the 60s, medical transcription was simply legibly copying physician notes into patient records by hand or even taking notes as a physician hurriedly described his last appointment. Soon after, dictaphones and manual typewriters entered the profession and were soon replaced by electric typewriters and voice recorders. Eventually computers and advanced speech recognition software became staples in the industry.
Evolution of Scope: Verbatim Transcriber to Certified Specialist
The scope of the job has also evolved and is now much more than simply transcribing. Medical transcriptionists, now often referred to as medical transcription editors or medical language specialists, review the draft reports, fix errors, improve accuracy, and add clarifications. They must understand medical terms and jargon, subtle nuances in doctor dictations, and electronic health record (EHR) systems.
A job that at first anyone with a pen could perform has now become one requiring formal, standardized training. Through the years, more and more vocational schools and community colleges saw the need for medical transcriptionist classes and started offering training programs. Later, online schools began offering courses that were even more cost effective and convenient. The topics covered in these courses have also evolved to match the changing healthcare industry; programs now cover anatomy, medical terminology, risk management, legal issues in healthcare documentation, and grammar, among others. With an increased number of training programs, it became essential to have standardized skills and medical transcriptionist certifications and exams to prove professionals' competency.
What Does The Future Look Like?
Medical transcription will continue to evolve through the years. Some say that technological innovation will eventually be the demise of the medical transcription profession, but don't let them scare you. The truth is that human intervention will always be required to make accurate sense of speech recognition software's output. A computer cannot understand every command, emphasis, vague reference, or accidental inaccuracy. Healthcare documents are important and will always demand a high level of quality control, meaning there will always be a demand for trained and exceptional medical transcriptionists. So if you are a medical transcriptionist, a student, or simply investigating the field, don't worry—you made a good choice.
So what will a medical transcription job description look like in the future? Wish we could tell you, but we do know one thing: the future is rosy for this career. After all, there will be even more than a billion doctor office visits next year!