2015's Top Career Choices for Military Spouses
Posted on 03.09.2015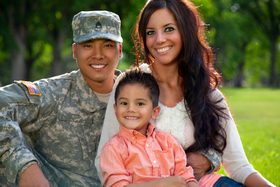 Military spouses are all too familiar with the reality of uprooting their lives and moving on short notice. While it can be challenging to establish a stable, successful career in a climate such as this, it is not impossible thanks to today's technology-filled world. Check out these 5 picks for flexible, in-demand careers for military spouses.
1.  Personal tutor
Have teaching experience? Personal tutors, foreign language teachers, and online instructors have never been more needed. Consider working as a personal tutor for those living on base or, if you're bilingual, conducting classes for those interested in learning a new language.
You can also qualify to be an online instructor and teach kids all over the world. There is a great demand for online instructors, and in most cases you need only a bachelor's degree and teaching license. Tutorzilla, TutorVista, and TedJob are just a few places to get you started.
2. Medical transcriptionist
Need a marketable skill? Medical transcriptionists convert physicians' voice dictations into written word documents. Medical transcription is such a great choice for military spouses because the majority of these professionals work for medical transcription service organizations (or MTSOs), which hire professionals to work from their homes. So next time you have to move, you can just take your job with you! You can also be trained and working in only a few months
Depending on your preference and location, you can enroll in an online program, a part-time program, a full-time program, or even a blend of both online and on-campus work. However, it's important to make sure you're choosing a program that employers trust such as that offered by CareerStep.
The MyCAA education funding program is a great resource if you're interested in earning a medical transcription certificate. If you're eligible for the funding, you'll have $4,000 to cover your tuition. As a MyCAA-approved school, CareerStep offers medical transcription training that can be completed in as little as 4 months as well as additional career training programs that make great choices for military spouses.
3. Editor/proofreader
Have an English degree or are good with grammar? Thanks to the Internet, careers in remote or freelance writing and proofreading are always in demand and are perhaps one of the most flexible career options out there. The trick is to establish a steady flow of work.
Start by creating a strong network through which you can find freelance editing and proofreading opportunities. Work can easily be found through websites like Linkedin, Flex Jobs, and oDesk.
Another avenue to explore is blogging. Many military spouses and stay-at-home moms take to blogging to share parenting advice, recipes, home improvement tips and tricks, etc. If you have something you'd like to share with other moms or the Internet community, start your own blog. It is free, fun, and potentially lucrative.
4. Cosmetologist
Enjoy the beauty industry? No matter the state of the economy, people always want to look good. Cosmetology is a profession with a high turnover, allowing you the flexibility of working at a pace most convenient for you.
As a cosmetologist, not only can you take on appointments as you like, but you can also upgrade and diversify your skills all year round through short courses offered at beauty schools across the country.
5. Speech pathologist
Trained in speech therapy? Speech pathologists help diagnose and treat patients with speech and swallowing disorders that are often a result of injury, hearing loss, emotional trauma, stroke, etc. Elementary and secondary schools, hospitals, nursing facilities, and residential care facilities often need speech therapists and accept those looking for short-term work.
With the correct licensure, you can work at an audiologist practice or start your own speech therapy practice wherever you're stationed. Be sure to do your research; requirements can vary by state.
Don't let your frequent relocation limit the mobility of your career. As a military spouse, you too have lucrative options when it comes to a career.