3 Reasons Microsoft Office Training is Important
Posted on 01.22.2015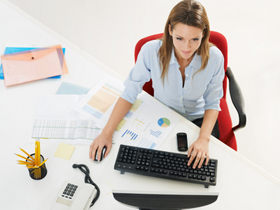 If you're anything like me when I was in the Executive Assistant course, I really questioned whether it was really crucial to learn all these Microsoft Office programs. I was, after all, pretty comfortable with using most of them and I felt a little flippant at first. Once I got in to the material, though, I realized I really only knew the basics.
CareerStep's Microsoft Office training was sound and robust, and I learned how to do so many things I never knew existed.  I was humbled by the training, and I truly believe it helped me to further my career. In preparing for this post, I identified 3 thought-provoking reasons why Microsoft Office training is important.
1. Microsoft Office programs are used in most administrative positions, regardless of industry.
I found a really fascinating study by International Data Company (IDC) just a couple of years ago that showed that having Microsoft Office skills was in the top 3 skills desired by employers. (Granted, Microsoft commissioned the study, but IDC is an extremely reputable analytics company.) I'd encourage you to read the full study if you want an interesting read. If you want a brief overview of the methodology of the study, IDC analyzed 14.6 million job postings to identify the top skills required. That is statistically significant!
2. Having Microsoft Office training can make you more productive, confident, and satisfied with your job.
Just think about it. It is a little embarrassing to not know how to use Word or PowerPoint or Excel when they are so common in the workplace. Microsoft Office training can give you the confidence to use the tools you are provided. Confidence can provide you with a sense of job satisfaction because you don't have to sheepishly ask Susie in the next cubical over how to complete a task in Word. That confidence and satisfaction will increase your productivity because you don't have to spend time trying to figure out how to do something in Excel. Productivity is crucial to success in the administrative assisting field, and your employers will thank you for it.
3. Industry-recognized certification will boost your resume and increase your earning potential.
CareerStep's Executive Assistant and Microsoft Office suite training programs prepare you to take the Microsoft Office Specialist exams. These industry-recognized certifications are a huge boost to your resume and may mean the difference between securing employment and being turned down. Also, when employers see that you are certified, they are often more willing to consider a higher pay level (if possible) due to your skill sets.
There are lots of other reasons why training in Microsoft Office is important for an executive assistant's career, but I hope these give you a jump start.  We know the training can seem overwhelming at times, but it will be worthwhile and beneficial for your career and even your everyday life!