5 Ways to Maximize Effectiveness as a Medical Transcriptionist
Posted on 04.20.2015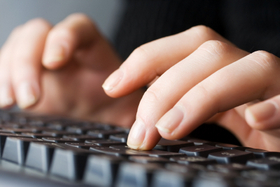 The trick to any successful career is making the most of your training—and knowing the tricks of the trade. This is particularly true for medical transcriptionists who are often paid on their productivity, so the faster and more efficiently you work the more you can make!
Here are a few strategies to help you make the most of your education and maximize your effectiveness as a medical transcriptionist
1. Keep an eye out for jobs throughout your training.
Begin your job search while you're still studying. Often, medical transcription training programs partner with companies and have job search resources for their students' use. For example, CareerStep has partnerships with many reputable medical transcription service organizations that are often willing to waive the typical required experience for CareerStep graduates.
Traci Martin, mother of two and CareerStep graduate, started looking for jobs before her training was complete and found great success. In her words, "I got an email from a company that found my name on the AHDI website (thanks to CareerStep, I had a membership). They were looking for transcriptionists living in Maine to dictate for Disability Determination Services. I thought it was a long shot, but I figured the more practice with the testing, the better. I took the test, and to my surprise I was actually offered a position with the company 2 weeks before I took my final! In my interview, I was ecstatic to hear how impressed they were with my results! I had passed the test with flying colors and was offered a job at the end of my interview!"
2. Start networking early.
It's never too early to begin networking, and your medical transcription training program is a great place to start. For example, CareerStep students have access to a community for classmates and instructors to connect before and after graduation. Be sure to take advantage of resources like this and connect with people during your training. Who knows? A classmate may give you the tip that leads to your dream job!
Industry forums and discussion boards are also a great place to network. Communities such as MT Daily, which connects you to hundreds of online MTs and fellow students, are great resources.
After you complete your training, job portals such as oDesk and Elance can also help you find freelance medical transcription work, build your network, and accumulate valuable work experience.
3. Make sure your training includes practice on real medical dictations.
It is important to your future effectiveness as a medical transcriptionist to have hands-on training and lots of practice transcribing real medical dictations. If you have yet to begin your formal training, be sure that your program includes realistic practice. CareerStep students practice on over 1,300 authentic doctor dictations and patient records, which is why employers often prefer and recommend CareerStep training.
If you need more practice or opportunities to brush up on your skills, Medical Transcription Samples, MT Daily, and MTSamples offer a huge collection of transcribed medical transcription samples.
4. Minimize distractions.
Medical transcription requires heavy concentration, and there is no room for error—after all these are patients' medical records and can mean the difference between life and death. Lucky for you, working from home eliminates the number 1 workplace distraction: coworkers. Implement these additional strategies to help you maximize your effectiveness in your home office.
Establish a routine and schedule for when and how you work.
Have an "office" space set aside, preferably a quite room away from distractions with a desk and comfortable chair. (Not too comfortable!)
If noise is still a problem, invest in noise-canceling headphones. They'll pay themselves off quickly with your increased productivity.
5. Buy the right kind of gear.
To be successful, arm yourself with quality medical transcription gear. In order to do your job well, you'll need comfortable headphones (consider USB headphones and ones with noise cancelation), a foot pedal, reliable internet, an ergonomic keyboard, and reference resources (such as Benchmark KB).
As you will be listening to audio files, make sure your computer has a quality sound card, and using a desktop monitor rather than a laptop screen can reduce eyestrain and improve your posture. You may even want to consider using two monitors to maximize your effectiveness because this gives you more room to have multiple documents and applications open.
Transcription editing gear can be purchased at online stores such as TranscriptionGear. But be warned: many companies have specific hardware and software requirements, so it may be wise to postpone purchasing a pedal and/or software until you know the requirements of your specific job and company.
Even if you are still learning the medical transcription trade, now is the perfect time to get a jump-start on perfecting the skills that will increase your effectiveness and setting yourself up for a successful, worthwhile career. For other ideas and additional resources, check out CareerStep's Pinterest boards on effective school gadgets and medical transcription.
Know other effective tricks of the trade? Help your fellow medical transcriptionists by sharing your ideas and comments below.