A Day of an Administrative Assistant: Job Description & Duties
Posted on 12.31.2012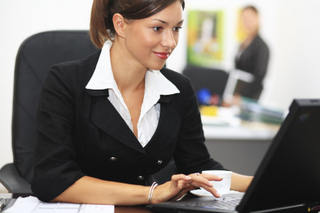 So what do administrative assistants do exactly? I recently asked Beth, an administrative professional in a high school, to share her daily experience with our students to help them understand the typical day on the job and the duties of an administrative assistant. This was a difficult task as no day is 'typical.' In fact, each day is extremely varied and ever changing. Here are her thoughts, which should give some good insights into what administrative assistants do.
Here is my plan for the day:

8:00-8:30
1. Review my to-do list from yesterday
2. Re-prioritize my list for today
The list has
• Must do today
• Should do today
• I hope I have time for this
3. Sort through my e-mail
• Delete worthless messages
• Answer emails
• Sort out those that require more time or extra work to answer
– move them to my to-do list.

8:30-10:30
Since this is my most productive time of day I try to tackle my most demanding project.
This is when I would write important letters, work on a report for the school board, update
or refine a data sheet.

11:00
Great time for meetings.  This is a nice time to take a break from desk work and it has a
definite end time (lunch)

12:00
Lunch (Away from my desk, because I need to refresh and rejuvenate)

1:00
Return phone calls, respond to emails, and work on my to-do list

2:30-4:00
Do data entry, send or pay bills, prepare mailings, and work on things that are more routine and
don't require as much energy.  This is a good time to get routine jobs complete.

4:00-5:00
Burst of final effort to complete my to-do list. Sort out things that can be moved
to tomorrow's list.  This time of day is my best 'sorting' time – complete short,
easy projects, request information from others for my projects, clean off my desk, etc.

In between all of this I answer the phone and deal with the immediate needs of customers and co-workers. As the face of the business, it is important that I handle interruptions to my schedule with graciousness and unruffled efficiency.

Here is how my day really goes:

8:00
Already people are waiting in the office that have critical needs. I enroll new students, try
to get them into classes, enter their information into the computer, and request additional
information from their previous school.

The phone rings every 5 minutes with simple requests that take my time until 10:00

My boss calls and lets me know he has a meeting in another town—could I get a report off his desk, scan it and send it to his phone?

10:00
Finally I can check my email and review the stack of work left from yesterday.

10:15
I start on report for the school board, respond to a request for state reports on
attendance and teacher time in classroom, and organize a new time schedule
that meets state requirements and community requests.

11:00
Post information to the school website

11:30
My boss returns from his meeting—he needs me to contact several people
for a meeting tomorrow.

12:00
I eat lunch at my desk, while answering the phone and working on my to-do list.

1:00
Cover another administrative assistant's post so they can talk with angry parents.

1:30
Look through the stack of unfiled papers for a recent report of student achievement,
find it, remember what I named it on the computer, edit it with new information and
submit to the boss.

2:30
My co-worker asks me to help organize a retirement party for a supervisor—she really means
will I arrange a time and place, make a list of invitees, prepare and mail invitations and get
prices from the caterer. She will handle the program.

4:00
Review my to-do list and see several projects that had to be completed today.  I Work until
5:30 to complete them and vow to be better organized tomorrow.

I have found that the most important quality in an office assistant is flexibility.  You must be able to switch gears quickly to respond to constant interruptions and the demands of the boss.  I also feel that the office is the hub of the business.  The assistant must be knowledgeable about all aspects of the business and be able to receive, evaluate and pass on information to all areas in the workplace.
~Beth
From Beth's description of the typical duties of an administrative assistant, it's clear that having a versatile skill set is of vital importance to succeed in this career path. Having good organization skills is also key as being an administrative assistant requires juggling multiple tasks at once. Administrative assistants usually work in office settings, so being familiar with basic computer programs and office equipment will help you prepare for all the challenges this line of work has to offer. Of the many things an administrative assistant does, some of the most common include managing day-to-day operations of the office, making travel and guest arrangements, providing excellent customer service, planning and scheduling meetings and appointments, and more.
Part of the appeal of becoming an administrative assistant is the wide range of places you can work. Administrative assistants are needed in corporate offices, schools, government agencies, and in many more office settings. The job pays well too, with recent statistics from the U.S. Department of Labor showing that you can earn anywhere from around $26,000 to more than $42,000 per year.
If you're still interested in how to become an administrative assistant and would like to pursue a career like Beth's, CareerStep's executive and administrative assistant training could be a great place to start. In as little as 3 months of full-time study, you'll learn the skills you need to excel in this rewarding field. CareerStep's program will provide the training you need to become an administrative assistant, from learning the basic skills like typing and writing to more advanced skills like working with Microsoft Excel and PowerPoint. The program teaches you through interactive games, videos, and images, all in an effort to help you earn the Microsoft Office Specialist Master credential. So if you think this is the career path for you, CareerStep's program will get you up to speed in only a few months.