CareerStep Expands Professional Training | Acquires Medic-CE
Posted on 10.03.2016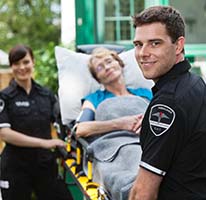 CareerStep, an online provider of career-focused education and professional training, is pleased to announce its acquisition of Medic CE, LLC, one of the leading providers of online continuing education for emergency medical service (EMS) and firefighting professionals. This acquisition expands CareerStep's professional training offerings into another sector of healthcare.
"At CareerStep, we continue to focus on helping people improve their lives and advance their careers through education designed for real application in the healthcare arena," said Steve Tober, CareerStep President and CEO. "The acquisition of Medic-CE enables us to take our education and innovative training one step further. We are now able to combine Medic-CE's robust learning and record management system and its considerable online continuing education course library, with our live online, instructor-led training, which we added this past January through the acquisition of Code3 CME. This combination of tools is the only unified solution in the market that enables EMS professionals to meet all of their didactic continuing education requirements in one place."
Founded in 2006 and based in Houston, Texas, Medic-CE currently serves more than 75,000 individual learners and 200 EMS and fire agencies. The company offers self-paced online continuing education that is written and developed by subject matter experts. All of the EMS programs are nationally accredited by the Commission on Accreditation for Pre-Hospital Continuing Education (CAPCE) and are accepted by the National Registry of Emergency Medical Technicians (NREMT).
"With high-quality courses and easy-to-use technology, Medic-CE has grown to become one of the largest providers of EMS online continuing education over the past eight years," said Richard Ezzeddine, MD, co-founder of Medic-CE. "Teaming up with CareerStep provides a unique opportunity to rapidly expand our course offerings and further enhance our technology as well as become the first company to offer virtual instructor-led training through an advanced learning management platform. Our ultimate goal is to increase customer satisfaction and ensure we continue to be a pioneer in the online EMS continuing education space."
CareerStep's acquisition focuses on improving the experiences of its learners within the EMS field. The online format aligns with CareerStep's portfolio of education products, and the acquisition simplifies continuing education by providing the opportunity to meet all didactic training requirements through one vendor.
"As an emergency medical services and fire educator with nearly 20 years of experience, I understand first-hand the challenges departments face delivering healthcare education to their staff," said Judson Smith, CareerStep Vice President of Continuing Education. "This is why I am so excited for the time savings and convenience that will be provided for these agencies with the 24/7 access to online instructor-led training as well as self-paced curriculum within one platform.  In the business of saving life and property, this is extremely valuable to our fire and EMS professionals."
CareerStep will run the Medic-CE business as an independent brand and entity within CareerStep's Professional Training Division. The transaction closed September 30, 2016, and Hogan Lovells US LLP acted as exclusive legal advisor to CareerStep. More information on the available products can be found at Medic-CE.com.
About CareerStep
CareerStep, a portfolio company of Denver-based equity firm Revelstoke Capital partners, is an online provider of career-focused education and professional training. The company has trained over 100,000 students for new careers, has more than 150 partnerships with colleges and universities nationwide, offers a variety of continuing education courses for healthcare professionals and has educated more than 8,000 health information professionals through its Professional Training Division. CareerStep provides training for several of the largest and most respected healthcare employers in the nation and is committed to helping students and practicing healthcare professionals alike gain the skills they need to be successful in the workplace—improving lives, advancing careers and bettering business results through education. More information can be found at www.careerstep.com or 1-800-246-7836.
About Medic-CE
Medic-CE, a CareerStep company, provides accredited online continuing education for EMS and firefighting professionals. Founded in 2006, the company currently serves over 75,000 learners and 200 fire/EMS departments. More than 200 hours of continuing education are available through the company's powerful learning management system. The company also offers the Code3 CME Virtual Instructor-Led Training (VILT) Solution and the option for departments to add their own in-house continuing education and instructor-led courses to its sophisticated yet simple learning platform. More information is available at Medic-CE.com or 1-877-458-9498.
###