New Pharmacy Technician Externship Partnership | Walgreens
Posted on 01.12.2012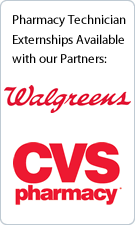 CareerStep has established a partnership with Walgreens to offer CareerStep Pharmacy Technician students externships in their local areas. CareerStep students nationwide are now eligible for externships with this large retail pharmacy.
"The CareerStep Pharmacy Technician program is focused on comprehensively preparing students for the pharmacy workplace," said CareerStep COO Mark Thomas. "We're excited about this partnership because it expands our program by adding the opportunity for our students to gain on-the-job training before or after graduation—cementing the knowledge and skills they learn in the online program with hands-on experience."
After gaining a solid foundation of pharmacy technician knowledge in the training program, students will work with their CareerStep instructor to consider available externships in local Walgreens stores. Externships will typically consist of 180 practical hours, but the school will work with the individual externship provider to ensure the externship meets all state requirements.
"These externships are a phenomenal opportunity for our students," said Rebekah Hutchins, a CareerStep Pharmacy Technician instructor. "The CareerStep Pharmacy Technician training program already incorporates a variety of teaching methods—including video, simulations and interactive exercises—and now these externships are adding hands-on experience in the real world for our students to thoroughly learn the material and prepare for certification and employment."
The CareerStep Pharmacy Technician program is a comprehensive online training course designed to help students train for a career in as little as three months. The program is focused on helping students gain the knowledge and skills they need to pass the Pharmacy Technician Board Exam (PTCE) and earn national certification, which is required in many states and recognized by most employers. The externship partnership with Walgreens will further prepare CareerStep students for national certification and entry into the workforce.
For more information on the CareerStep Pharmacy Technician online training program, visit CareerStep.com.