CareerStep Partners with RCM Health Care Services to Expand Employment Opportunities
Posted on 04.10.2018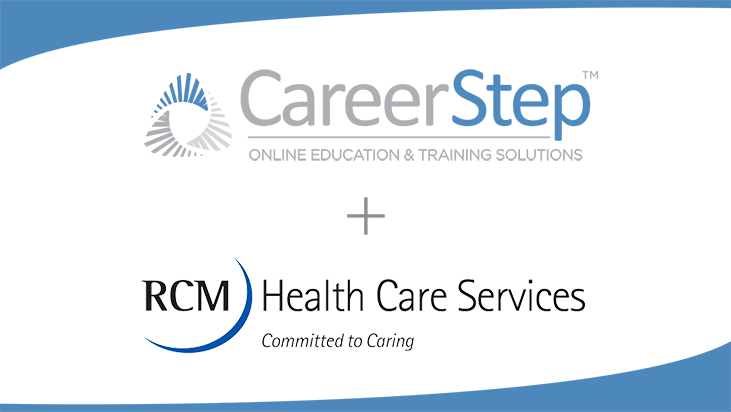 LEHI, Utah—April 10 2018—CareerStep, an online provider of career-focused education and professional training, has partnered with RCM Health Care Services, a premier provider of staffing solutions for healthcare institutions across the nation. RCM intends to employ graduates of CareerStep's educational programs, specifically those trained for careers related to health information management.
"We are thrilled for the opportunity this partnership provides for our graduates to quickly find employment," said Jerolyn Robertson, CareerStep Vice President of Academics. "Our primary focus is preparing our students for careers that will improve their lives. CareerStep's partnership with RCM Health Care Services will make it even easier for our graduates to find traditional and remote employment opportunities and start rewarding new careers."
CareerStep's training programs provide streamlined, career-focused education, preparing learners to earn national certification and begin a new career immediately upon graduation. The online educational platform offers career training programs such as Professional Medical Coding and Billing, Medical Transcription and Editing, Pharmacy Technician, Medical Assistant, Medical Billing and more. It also provides continuing education programs designed as an affordable and flexible way to enhance job performance, fine-tune skills and advance careers.
The association between CareerStep and RCM, both members of the Military Spouse Employment Program, will provide greater support for military spouses. CareerStep's MyCAA-approved online career training makes it possible for military spouses to continue their education wherever they may be stationed. The school also has funding options for veterans and active-duty military members and their families. RCM can then provide CareerStep graduates with portable employment opportunities perfect for the military family.
"RCM looks forward to our collaboration with CareerStep that will allow us to provide employment to their graduates," said Michael Saks, Senior Vice President of RCM Health Care Services. "The remote career opportunities provide flexibility, offering a unique opportunity, especially for military spouses, that allows them to retain employment with RCM even when frequently relocating to various military bases due to deployment."
For more information on CareerStep and their partnership with RCM, visit CareerStep.com or call 1-800-411-7073.
About CareerStep
CareerStep is an online provider of career-focused education and professional training. The company has trained over 100,000 students for new careers as well as more than 100,000 healthcare professionals through its various continuing education courses. More than 150 colleges and universities nationwide have partnered with CareerStep, and the company provides training for several of the largest and most respected healthcare employers in the nation. CareerStep is committed to helping students and practicing healthcare professionals alike gain the skills they need to be successful in the workplace—improving lives, advancing careers and driving business results through education. More information can be found at www.careerstep.com or 1-800-246-7837.
About RCM Health Care Services
RCM Health Care Services is a division of RCM Technologies, Inc. that specializes in long-term and short-term staffing as well as executive search and placement for the following fields: rehabilitation (physical therapists, occupational therapists and speech language pathologists), nursing, managed care, allied health care, health care management, medical office support and non-medical caregivers or companions. The Specialty Health Care Group provides services to hospitals, long-term care facilities, schools, sports medicine facilities and private practices. Services include in-patient, outpatient, sub-acute and acute care, multilingual speech pathology, rehabilitation, and geriatric, pediatric, and adult day care. The Specialty Healthcare Group also provides Hospital Information Management System consulting services to the hospital industry. Typical engagements either range from three to six months or are on a day-to-day shift basis. For more information please visit: www.rcmhealthcare.com