Medical Coding & Billing Program Trains on Both ICD-9 & ICD-10
Posted on 11.07.2014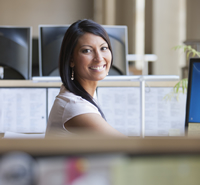 CareerStep, an online provider of career-focused education and corporate training, has released a new version of its medical coding and billing training, Professional Medical Coding and Billing ICD-9/10, that bundles both ICD-9 and ICD-10 code set training into a single program. CareerStep has created this new program to ensure students will have the skills needed to code with ICD-9 upon graduation while also being prepared for the industry's eventual transition to ICD-10, currently scheduled for October 1, 2015.
"The medical coding and billing industry is in need of well trained new professionals given that the shortage of trained and certified coders is expected to exceed over 50 percent as the industry transitions to the ICD-10 code set," said CareerStep CEO Steve Tober. "The prior delay of the ICD-10 implementation date complicates training decisions for new students as they have to predict what the state of the industry will be when they graduate. We have removed that headache and concern for our students with our new Professional Medical Coding and Billing ICD-9/10 program. CareerStep will train our students on both code sets to ensure their career readiness regardless of when ICD-10 is implemented."
CareerStep has been offering training on both ICD-9 and ICD-10 for several years, both directly to students as well as to organizations that use the curriculum to train their employees. Previously, CareerStep has trained students on either ICD-9 or ICD-10 in its full length Professional Medical Coding and Billing and then offered bridge programs—including ICD-10 FastTrack and ICD-9 for ICD-10 Coders—designed to prepare students to use the other code set. Though this segmented approach will still be available, the school has moved to a more unified approach by bundling everything in one course.
"Our focus at CareerStep is creating positive outcomes for our students," said CareerStep Vice President of Enrollments and Marketing Ryan Ewer. "We want to ensure our students are as prepared as possible for their new careers, and in the case of medical coding and billing, this requires knowledge of both the ICD-9 and ICD-10 code sets. This new program is our premier medical coding and billing offering, and we have included everything these students need in one comprehensive program. Upon graduation, out students will have the flexibility to earn industry certifications and start working with ICD-9 while still being prepared for the eventual transition to ICD-10."
The Professional Medical Coding and Billing ICD-9/10 curriculum was developed by a number of industry experts and AHIMA-Approved ICD-10 Trainers and is approved by the American Health Information Management Association (AHIMA). The online program teaches everything students need to know about healthcare and coding to successfully start a new career, and it can be completed in as little as four months. Students also have access to one-on-one support throughout the course as well as after graduation as they work to turn their education into a job.
For more information on CareerStep's Professional Medical Coding and Billing ICD-9/10 program, please visit CareerStep.com or call 1-800-411-7073.
About CareerStep
CareerStep, an online provider of career-focused education and corporate training, has trained over 85,000 students, has more than 150 partnerships with colleges and universities nationwide, and provides training for several of the most respected healthcare employers in the nation. CareerStep is committed to helping students and corporate employees alike gain the skills they need to be successful in the workplace, improving lives and business results through education. CareerStep's training programs are currently focused in healthcare, technology and administration, and more information can be found at www.careerstep.com or 1-800-246-7836.