Celebrating Graduation from an Online Program
Posted on 06.01.2016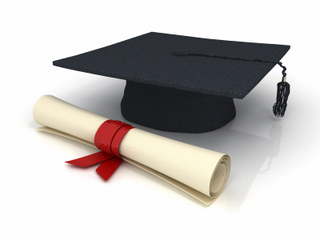 One of the most invigorating moments of my life was standing on the edge of the dais at the front of a ballroom packed with families and friends and fellow graduates. The announcer called my name and I made my way across the stage to the college dean to shake his hand and get my diploma. A whoop of celebration was heard from my family and friends and it took everything I had to not jump in the air and whoop myself as they had encouraged us to be more serious and solemn. Taking an online program doesn't usually carry the same formality when it comes to graduation, but that doesn't mean you can't celebrate your heart out—you probably can even jump in the air and whoop where no one will judge you. I've gathered a few of my favorite suggestions to celebrate graduation from an online program.

Throw yourself a graduation party or ceremony!
Get a cap and gown from a local party store, choose a theme for your party, and send out invitations. This is a chance to celebrate your accomplishments just the way you want to—more than a lot of graduates from formal "brick and mortar" schools can say. You get to pick the music, the food, and the venue. Best of all, you're the center of attention for one whole night and you don't have to share the limelight with anyone. Spend the evening with good food, great memories, and excellent conversation.
If you're more low key, that's okay! Take yourself and your loved ones out to dinner to celebrate your accomplishments. Or celebratory mini golf is always a fun idea.
Travel somewhere!
Just a few days after graduation, I found myself stocked up on road snacks and Diet Coke and on a 14-hour adventure to my hometown.  I stopped in various towns along the way and really enjoyed myself.  Nothing said freedom to me like the open road and a vacation. Do you have somewhere you've been meaning to visit but haven't had time with school? After graduation is the time to take that trip. It doesn't have to be a huge trip to Paris or Hawaii. It could just be a couple of towns away. The point is to let yourself relax for a "hot minute" (as my best friend would say) until getting into the workforce.
Treat yourself to a king-for-the-day/queen-for-the-day adventure
You've probably sacrificed a lot of your own personal time and energy to complete your rigorous online program. You've given up doing a lot of other things you enjoy doing for fun. Take a part of or a whole day to just do whatever the heck you want to. Do you want to go have a movie marathon at the local cinema? Do it! Do you want to go book shopping and enjoy a long period of time just sitting, reading, and sipping on a café au lait at the coffee shop? Do it! Do you want to escape to a spa in the mountains? Do it! Sure, this suggestion requires some coordination between significant others, baby sitters, etc. but it can be well worth it while you take care of yourself for once.
These are just a few suggestions. The only limitation to your graduation adventures is your imagination. How are you going to celebrate graduation? Put your plans in the comments below!