Certification Program Changes & Pharmacy Technician's Roles
Posted on 10.21.2015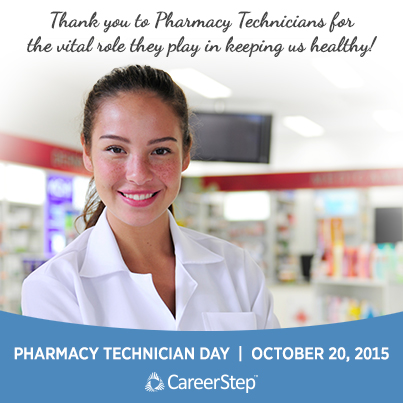 October 20 was National Pharmacy Technician Day, a day set aside to make an extra effort to acknowledge pharmacy technicians for their contributions and a time to evaluate certification program changes.
According to Laura Humphrey, manager of communications for the Pharmacy Technician Certification Board (PTCB), discounts were offered by 6 different pharmacy organizations and pharmacy team photos were incorporated in a photo gallery on the PTCB website in celebration of the annual day. PTCB also hosted a Twitter discussion where technicians discussed the different roles they play.
"Not a lot of people know about what the job entails," said Juan Lopez, 21, a student majoring in nutritional sciences at the University of Florida.
Nevertheless, the PTCB hopes to change that by ensuring that National Pharmacy Technician Day emphasizes the important role that pharmacy technicians play in healthcare, no matter the many ways their work can vary.
Whether they are directly helping pharmacists, entering and filing prescriptions, or communicating with physicians and insurance companies, it's important to educate the public on pharmacy technicians' responsibilities, said Lisette Ramos, a pharmacy technician at Farmacia Cali in Hialeah, Fla.
However, the path to become a pharmacy technician varies from state to state. Some states, like Florida, require technicians to graduate from a program approved by the State Board of Pharmacy. Others may require technicians to earn certification through the PTCB.
For example, Ramos took a course, which lasted 11 months, and then needed to pass the Pharmacy Technician Certification Exam (PTCE) in order to be in compliance with the State Board of Pharmacy. Lopez completed his certification through his high school when he took a course during his junior and senior year and then passed the certification exam after graduation.
However, the PTCB is making changes in its certification program, which could potentially affect pharmacy technicians nationally. The changes include requiring each new candidate to complete an ASHP/ACPE-accredited pharmacy technician education program.
Not everyone is embracing these proposed changes wholeheartedly. Lopez expressed concern that increasing qualifications on pharmacy technicians would take away the opportunity for high school students to become certified before college.
In addition, Lopez said that the more technicians, the better.
"The faster we can get medications, the less wait. It's about actual practice, not just reading books in order to understand," Lopez said.
On the other hand, according to Megan Murphy-Menezes, director of continuing pharmacy education for University of Florida, since Florida does not require any certifications, it will be interesting to see if the Florida Board of Pharmacy require technicians to become certified since many employers do prefer certified technicians.
Nevertheless, though PTCB certification is recognized nationally, there are currently only 23 states that require pharmacy technicians to earn and maintain some degree of certification.
"We are making sure that our certification program is relevant to the knowledge of pharmacy today," said Humphrey, manager of communications for the PTCB referring to the PTCB Certification Program. At the end of the day, the entire goal is to ensure pharmacy technicians have the knowledge and skills to help stay healthy and safe.