"Medical Coding Is WAY Harder Than I Thought It Would Be!"
Posted on 01.14.2015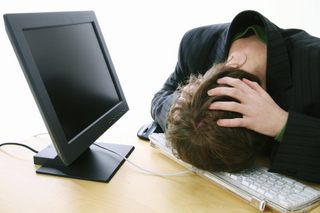 Medical coding and billing is one of the most popular fields in healthcare. It's got great growth potential, training moves relatively fast, and it's an essential part of the industry.
The salary isn't half bad either.
But it's also tougher than it appears. And anyone with any level of experience will tell you that the job can be just as challenging as it is rewarding.
If you're working your way through an online medical coding and billing program, you might be feeling frustrated or discouraged. Don't worry, though. You got this. But don't take our word for it. Take it from someone who has been there—who knows the ins and outs of the profession like the back of their hand.
Keep reading for advice from a coder with years of experience teaching and practicing medical coding and billing.
Advice From a Medical Coder
I hear it every day: "Coding is way harder than I thought it would be!" I hear it from folks new to healthcare and professionals who have years of healthcare-related experience. I am here to tell you that just because learning medical coding & billing is more difficult than expected, it is NOT something you should give up on.
Believe me, I was there too. Coding was very challenging for me. I had my degree and had even finished all the pre-med requisite coursework—including taking the MCAT. I felt like I had accomplished a lot with my education (no, I will not do your homework for you.). When I decided not to pursue medical school, getting my medical coding and billing certification looked like a great career option. So, I started looking at online medical coding programs and selected a course.
When I started the coding program, I was excited most of the biomedical sciences terms and definitions were familiar. Then, I was humbled. Those coding modules hit me like a brick wall. It was new and different, with steps and rules I'd never seen. And the level of detail was astounding … completely unexpected. And don't even get me started on my experience with Evaluation and Management! (That would require an entirely new post!)
My experience made me realize that learning medical coding is different from what I was used to. Medical coding & billing is not just knowledge, not just terms and definitions—it is a skill. I began to understand that sharpening this skill was about learning the individual steps to a process—and there are many steps. These steps require the application of guidelines and rules that are not always intuitive. Complicating things further, the level of detail is combined with the complexity of applying the process to the immense variability of different medical encounters.
It's common for people to say "I just don't think I can remember all this stuff." Again, I had a similar experience. But the key is to keep moving forward. Make it a priority to use your codebooks. You may not remember how to apply a guideline, but your book will tell you. Keep moving forward, and as you do, you will get more practice. And practice is the absolute best way to learn this process and polish your skills. Keep hustling, and before you know it, you'll reach the part of the program where every page is practice!
It is also common for potential coders to get to the point where they feel like they're starting to put it all together. As a coding instructor, this is very exciting, both because I love to see people succeed and because I've been there too, and I know how great that feels. This feeling of accomplishment is why you should never give up on the course just because a concept is problematic.
Remember your motivation and feelings when you started your online medical coding courses. Don't give up on yourself. Don't even consider it! Keep. Moving. Forward. The challenge of working through difficult problems makes the results so much sweeter. Your persistence will pay off, and if you're like me, you will discover that sometimes the most challenging things in life are the things most worth doing.