Demystifying MyCAA
Posted on 10.06.2014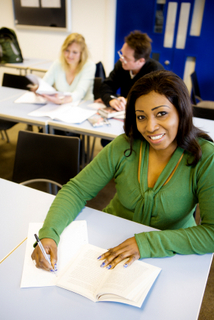 The Military Spouse Career Advancement Accounts program (or MyCAA) is a valuable career development and employment assistance program. It was created specifically to help military spouses pursue education so they could find gainful, fulfilling employment.
Depending on the courses you take, MyCAA can pay for up to $4,000 toward your education. Unfortunately, many military spouses are unaware of this program and are thus unable to take full advantage of the benefits it offers. Here we'll explain a few of the helpful assets the MyCAA program provides and hopefully demystify the process somewhat.
Who is eligible?
The MyCAA program was created for the military spouses of Army, Navy, Marine, and Air Force service members on active duty who fall in pay grades E-1 to E-5, W-1 to W-2, and O-1 to O-2 as well as the spouses of members of the National Guard and Reserve components. These spouses should be able to start and finish their coursework while their military sponsor is on Title 10 military orders. Spouses who are married but legally separated are not eligible.
What kind of education can you pursue?
MyCAA is designed to help military spouses pursue education that can lead to gainful employment. This means that MyCAA-approved programs will help military spouses pursue certifications, licenses, or even associate degrees in careers that are in high demand, but the program will not pay for associate degrees in general studies or areas that lack a particular career focus.
It is also important to make sure that your course, certification, or certificate programs are through MyCAA-approved schools. CareerStep has trained over 13,000 military spouses as a MyCAA-approved online school, offering career-focused programs in modern, competitive fields. While there are many MyCAA-approved online programs, CareerStep specializes in making the process easy for the student and rewarding for those who graduate.
What won't MyCAA pay for?
MyCAA does not cover supplies or equipment that might be needed during the program, nor will it cover the cost of additional examinations or courses after approved courses have been completed. The program cannot cover cost-of-living expenses or other activities that are not related to education. Likewise, extra fees (like registration, parking, or for library use), preparatory or entrance examinations, or general studies and course extensions, are not covered by MyCAA and must be paid for by the student.
Is there a time-frame for completion?
Military spouses who are pursuing an associate's degree must do so within 12 months, and those trying to obtain a license or certificate program must complete it within 18 months.
What happens when I'm finished?
Upon completion of any of MyCAA-funded training programs, you will need to inform MyCAA when you receive your license, certificate, or associates degree.
MyCAA funding helps make it possible for military spouses to pursue fulfilling and rewarding careers regardless of where they are currently stationed or where they might someday end up. Your career doesn't have to end just because you've married into the military. If want a career of your own, MyCAA funding is a valuable resource. It doesn't matter where you've been stationed; if you have passion and drive, you can have a rewarding, successful career.
Learn more about the MyCAA program and other resources available to military spouses through CareerStep at CareerStep.com/military-funding-programs.