Finding Executive Assistant Positions!
Posted on 07.09.2015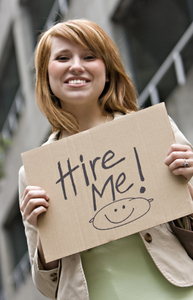 We previously posted a blog with tips for getting an executive assistant job, but we only briefly touched on the finding a job part.  In this post we'd like to discuss three main ways to find executive assistant positions in your area.
Pounding The Pavement
This first method is the most low-tech. Back in the day, this was one of the main ways individuals secured employment. They'd "pound the pavement" and go door to door dropping off resumes with companies that interested them. While this method isn't super popular anymore, it is still a possibility. When you identify several companies you are interested in, try dropping your resume off in person. Some companies won't accept resumes this way, but it can be very rewarding if they do. By turning in a resume personally, you get to see a glimpse of the culture before interviewing and you may even be able to briefly speak with the hiring manager to see if your skills match their needs.
The bonus of this method is that if the company isn't hiring right now, they are more likely to think of you first the next time they are hiring.
Newspapers/Classifieds
Also rather low-tech but effective, is checking out the classifieds in your local newspapers for some great leads.  If you don't mind commuting to a neighboring city, grab a newspaper from there, too. By taking a look at several newspapers, you expand your job search because not all companies advertise in all of the newspapers in the area. You just might find the perfect little gem (I certainly did)!
Online Job Search Sites
Last, but certainly not least, online job-search sites are extremely popular and are the go-to places for many companies and applicants. Here are a few that are quite good:
Indeed
Indeed is one of the most popular job-search sites. It searches a number of job websites, online newspapers, associations, and company career pages, and compiles them into easy-to-read results. You can set up a number of job search parameters and it will notify you when there are new listings fitting your preferences.
Monster
Monster is one of the most visited sites in the U.S.  In addition to the job search section, it also has resources like resume writing services, job search blogs, and various other career resources. It's much more than simply a job search site!
Craigslist

While Craigslist does look a touch old-school, it is very effective and many companies use it to post their job openings.  Its search tools are pretty limited, but if you find the Craigslist for your area and click on Jobs, you should find a wealth of positions. Just a warning: for some reason this site tends to be subject to scams. It's always best to verify the validity of companies within any online job search site before applying. We don't want you to be taken advantage of.
Hopefully these tips help you find some great positions so you can be successful in your job search. Our Graduate Support team also stands ready to assist you upon graduation. They can help with resume review, job notifications, and tips. You can reach them at graduates@careerstep.com.