How to Find and Evaluate a Medical Transcription Job Offer
Posted on 03.16.2015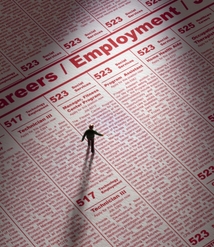 Medical transcription is one of the few healthcare careers that gives you the flexibility of working from home while earning a decent living. However, before you jump at the first job offer, here are a few valuable tips from CareerStep's experts on finding and evaluating a medical transcription position. (After all, over 90% of our Medical Transcription graduates work from home in their first position, so it's safe to say we know a thing or two about landing a great medical transcription job!)
Where to find work:
Companies such as M*Modal, Nuance, and Amphion Medical Solutions hire home-based medical transcriptionists, and credible job portals such as FlexJobs, oDesk, and Elance can also help you find freelance opportunities. You can directly search employers' sites, use sites like Indeed or Monster to find opportunities, or find freelance opportunities, but no matter what be sure to thoroughly read the medical transcription job description before starting the application process.
Graduates of CareerStep's Medical Transcription training program also have access to the school's Placement Direct resources. These include a list of 115+ medical transcription employers, a variety of application tools, and personal resume reviews and interview tips and tutorials from CareerStep's experienced Graduate Advisors. If you're a CareerStep graduate, be sure to take advantage of these resources!
Additionally, stay informed of the latest medical transcription news through organizations like the Association for Healthcare Documentation Integrity (AHDI), the leading industry association for medical transcriptionists, and sites like MT Daily. Both of these resources can answer questions about the profession and keep you up-to-date with the latest buzz in the medical transcription community.
Choosing the right medical transcription job:
After you've begun your search, filled out all those applications, and received a few job offers, how do you go about choosing the best one? Here are a few things to keep in mind…
Avoid scams by avoiding things such as…
Job offers that ask you to pay any "fees" or start-up costs before you start working.
Job offers that ask you to buy any transcription software before you begin.
Job offers that sound too good to be true. Check out the U.S. Bureau of Labor Statistics to get an accurate picture of reasonable yearly wages and growth opportunities for medical transcriptionists.
Advertising gimmicks that promise easy money. For example, "Earn $50,000 a week working from home as a medical transcriptionist!" or "Medical transcription jobs: work only 1 hour, no training required!"
Questions to ask while evaluating a job offer…
Growth possibilities: Is there opportunity for advancement? How long would it take to reach a managerial level?
Expected work hours: How flexible are the work hours? Is there an option to work from home? Make sure the workload will be manageable with your current household and familial responsibilities.
Payment variables: How and when will the company pay you? What other perks are involved? Are you a freelance contractor or an hourly employee?
Do your research: Is the company reputable and trustworthy? Is this a short-term or long-term position? What do online reviewers say about the business? (Check out websites such as Glassdoor and Better Business Bureau.)
It takes more than simply being offered a job to find a quality medical transcriptionist position. Before accepting a job, be sure you understand the medical transcriptionist job description, credibility of the offer, and how the position fits your lifestyle. If you keep these things in mind, you'll greatly increase your chances of beginning a rewarding career that you can be happy in for years to come.