Medical Coding and Billing: Then, Now, and in the Future
Posted on 01.12.2015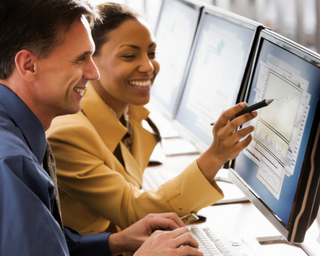 Modern technology has made it easier and faster than ever to manage medical records and claims, and many professionals wonder what other changes might be coming for the occupation as a whole. Here we take a brief look at the past and present of medical coding and billing as well as what the future might hold.
Then
Back in the 1980s, medical coding and billing was done through handwritten documents or typed on typewriters. With the advent of computers, people began transcribing documents to floppy disks and print-outs. Claim processing was a tedious, time-consuming task that wasn't specifically assigned to trained professionals.
Now
Over the years, more and more information has been digitized so that healthcare employees can access data and process claims whenever needed. Technology has made coding much more efficient and accurate, but it has also reinforced the need for a trained professional to do the job. Today, interested individuals can enroll in institutes all over the country to receive specialized training and certification. There are even 100% online training programs, such as CareerStep's Professional Medical Coding and Billing course—one of the only AHIMA-approved online certificate programs available to students.
Medical coder salaries are also now on the rise. The 2014 Salary Survey recently released by the American Association of Professional Coders (AAPC), reports that salaries of certified medical coding professionals increased an average of 8.4% in 2014. The average salary of certified coders is $50,775 a year, and those with advanced certifications and higher levels of education earn even more.
The Future
It is very likely that the medical coding and billing profession will continue to see tremendous change and growth in the coming years. The biggest anticipated shift will be the switch from the ICD-9 to the ICD-10 coding system, which is set for October 1, 2015. Employment opportunities are expected to grow by 15% between 2014 and 2024, a rate much faster than average for other occupations. CareerStep's employer partners are even reporting that they're seeing a shortage of qualified medical coding professionals—with the transition to ICD-10 this shortage is expected to reach as high as 53% nationwide!
While no one can predict what the future holds, medical coding and billing as a profession isn't going anywhere. There will always be a need for qualified, well-trained professionals with an in-depth understanding of their profession, and these men and women are likely to continue being sought after by employers. Now is your chance to make your mark and start earning a good living as a medical biller and coder!