Office Survival Skills for Administrative Assistants
Posted on 08.14.2012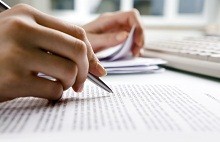 As an office assistant you will need a variety of skills! The ability to schedule your time and others' is a necessity. Coordinating a schedule each day that allows for every appointment, meeting, and task can be difficult, but it can be done! You will find these soft skills valuable not only in the office, but in your everyday life.
You have already been practicing these skills as you try to balance all the areas of your life.  Most students are not only trying to go to school and get through their course, but they also have a variety of other things they must balance each day. This list often includes taking care of children, a full or part time job, additional schooling, caring for a parent or others, and running a variety of other errands. You have probably asked yourself, "How will I ever get it all done?" The answer comes in using the same skills you will need as an administrative assistant!
You can begin by creating a plan. This is the key to being organized and managing your time.
After you have set up your study plan it is important that you stick to it! Every day there will be things that come up to deter you from your plan. Don't let it frustrate or discourage you, just be flexible! In the office you will have a long to-do list and the boss will come in and need something right-away. You will need to be able to cheerfully stop what you are currently doing to handle whatever they need without becoming stressed or irritated. Remember to be flexible and have a good attitude! Things will always arise and you will need to be able to take it all in stride and stay positive.
In these situations, your organization will come in handy because you will know exactly where everything is and how to quickly and efficiently carry out what has been asked. Use this in your daily life to. As obstacles arise, quickly and efficiently take care of them, then move back to what you were trying to complete before. When creating a plan, include time for some of these items. Be realistic, but don't allow yourself more slack than you need.
One thing that can help eliminate or decrease distractions is clearly communicating with those around you. When it is your study time, make sure your family and friends know not to bother you. Communicate what you need and how long you will be working on your course. With these boundaries, those around you are more likely to give you the time and space you need to effectively study, but they also know when you will be available. In the workplace, communicate honestly with your boss and others on how long you expect a task or project to take and update them periodically on progress or delays. This will help everyone manage expectations.
Make goals each day to help you accomplish more. Your plan should be made up of small, attainable daily goals. Large, long-term goals are important, but don't confuse them with your day-to-day plan or you will get discouraged.  At the end of each day, look back to determine if you're on track or off course. If necessary, adjust your schedule or goals. Try to do this sparingly; instead, be in constant check of yourself, spending a little extra time to catch up if need be.
Scheduling, organization, communication, problem solving, flexibility and time management are all skills that are needed in the office and in life. Work on developing and using them now!