Medical Transcription Final Exam: Preparing a Timeline
Posted on 03.15.2013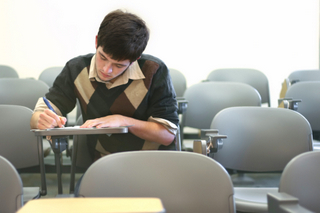 Have you ever run a marathon? If you have, you know that preparing for it is no light commitment! You have to start training months in advance. You create and undergo a rigorous training plan to safely work up to 26.2 miles of continuous running. Wouldn't it be foolish if you followed your training program diligently but forgot to sign up for the race or pick up your running packet in time or showed up two hours after the race start time? Just as you wouldn't miss these crucial aspects of the race after training for so long, you wouldn't want to miss out on taking the final because of some crucial aspects of your program.
As a student, you have a lot to worry about—working through the course, retaining the information, as well as planning for employment after graduation. With all of these things on your mind, you may be tempted to put off the final exam until the last second, assuming you can begin it on your expiration date—but don't, because you can't! It's very disappointing to learn you have to buy an extension because you've run out of time. Make sure to plan for the time it takes to go through the testing process. Here's what you should consider as the final exam draws closer so you can begin the race after all your months of rigorous training.
Current Enrollment
The final exam needs to be taken while your enrollment is current. Just like you have to run a marathon on the day it's scheduled, you also have to take your final exam by a certain time. Your course expires at 5 pm (Mountain Time) on the last day of your enrollment; any exam attempts must be submitted by that time to avoid forfeiture on that attempt. Keep in mind Medical Transcription (MT) , the exam is 48 hours long, so you need to have at least 48 hours remaining in your enrollment to begin the final test.
For example, if your course expires on a Friday, you need to start your final Medical Transcription (MT) exam before 5:00 pm Mountain Time the Wednesday before your course expires. If you fail to remember this, you may find yourself paying for an extension in order to take the exam.
Request Final (MT only)
As a marathon runner, you need to make sure you sign up and pay for the race before the deadline. If you're a Medical Transcription (MT) student, you also need to "sign up" or request the final exam two business days in advance of when you want to begin it. For example, if you want to start your exam on a Monday, you will need to submit your request before 5 pm Mountain Time the previous Thursday. If your request isn't in on time, you will need to reschedule your exam date; if your course expires before you can finish and submit the exam, you will need to purchase an extension. Before you submit your exam request, make sure you've met all of the final exam requirements.
Grading
After you submit your exam, it is hand graded by our expert team. It can take up to two weeks to get your test results. Usually people who run in a marathon need some time to rest and recuperate after the event but soon resume training to maintain their fitness level. Your end goal is not to just pass the exam and graduate but to find a well-paying job. Just like the marathon runner, it's good to take this opportunity to continue practicing while waiting for your results in order to keep your skills sharp and get everything around you ready for the next step.
Pass or Fail?
Finally your results arrive! Your score determines your next step. If you pass, all is good and, if you want to retake for a higher score, you can begin the next attempt as soon as you'd like (though we usually suggest taking at least a few days in between so you don't just end up with the same results as your previous attempt). If you do not pass, you need to wait at least two weeks from the date you got your results in order to retake your exam. Generally, you want to improve your time between races, right? Because of this, you'd probably tweak your training program to improve your performance for the next race. This mandatory two-week waiting period is in place to allow you to work with Skills Assessment and take the time to practice so your scores will improve on your next attempt.
Plan Now!
Once you factor in requesting the exam (two business days for MT students), taking the exam (48 hours), waiting for your results (up to two weeks), and waiting out the two-week period (if needed) before you can take it again, you can see that taking the final exam up to three times before your course expires is not feasible if you wait until the last month of your enrollment to begin testing.
Plan ahead! Make use of your study planner tool; set an initial goal, and track your progress, as well. Please note that the timetable for the examination process is not included in the study planner tool, so make sure you plan to complete your course at least 6-8 weeks before it expires. Don't be scared to read the Final Exam Preparation module before you finish the course work—read it now! Scheduling all three attempts inside your current enrollment is not an exact science; please feel free to call in to the Skills Assessment Department if you need assistance planning for your final. We want to see you cross that finish line instead of getting stuck at the start.
CareerStep Skills Assessment Team