Tech Troubles?
Posted on 06.10.2015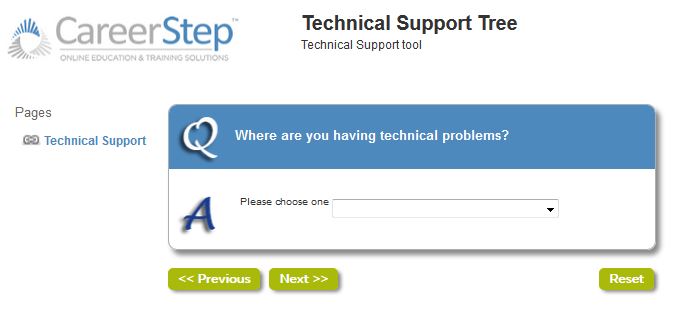 Ever run into an issue with your computer after CareerStep's business hours?
CareerStep provides technical support to our students during business hours; however, what if you are working during a weekend, a holiday, or sometime in the middle of the night and need assistance?  You can always send an email or leave a voicemail and wait for the work week to begin, the holiday to close, or for the sun to come up to receive a response. Or you could use the NEW technical support tree.
This additional feature has being created to provide students with additional support in another format.  It is particularly exciting because it makes it easy for you fine viable solutions to the issue at hand. It is a self-serve type of service, similar to some grocery stores' self-check option.  Our technical support tree is still a work in progress and is not yet fully operational, but we are so excited to show you some of the beginnings.
Lists of common questions and issues are shown in the tool, and once a few options have been selected to clarify the issue, specific steps and instructions are given to demonstrate how to solve the issue.  Several visual step-by-step instructions are also being developed to provide clarification to the steps since it is always nice to "see" the steps clearly.