The Evolving Role of a Medical Transcriptionist
Posted on 06.27.2016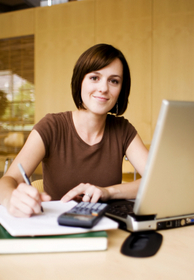 With the need for accurate healthcare documentation reaching unprecedented heights due to the ever increasing demand for healthcare in general, the industry requires a fleet of well-trained medical transcriptionists, also known as professionally trained healthcare documentation specialists. Medical transcriptionists are in need now more than ever and will be necessary in the foreseeable future thanks to how the job has evolved over the years.  Here's a quick look at that evolution.
Early days of medical transcription
Before the 20th century, doctors were in charge of their own patient notes and documents. Thanks to illegible handwriting and the liberal use of abbreviations, these charts were often misinterpreted or useless to other caretakers. As medical data and healthcare became more standardized and streamlined, medical stenographers began recording patient information. The early medical transcriptionists were only responsible for copying the notes written by physicians into patient records. However, soon the job evolved into taking doctor dictations in shorthand.
Enter technology
The advent of audio recording devices brought the second wave of change in the medical transcription industry. Now doctors could record their dictations, allowing them to work more efficiently and their transcriptionist more flexibly. However, the use of manual typewriters made transcription slow and tedious. Of course, electric typewriters made the job a lot more efficient, but the influx of computers and the internet really made the medical transcription career what it is today. Doctor dictations are now exchanged over the internet, allowing medical transcriptionists to work flexible hours remotely.
Technology – A boon or bane for medical transcription?
With the advent of speech recognition software, many thought that medical transcriptionists would be history, but instead the industry reinvented itself. Now instead of tedious typists, medical transcription requires skilled professionals who can edit computer-generated healthcare reports for quality and accuracy.
Scott Faulkner, CEO of InterFix LLC, a provider of technology solutions for medical transcription, defined the new role of medical transcriptionists: "As repetitive documents or very predictable language models are able to be handled much more effectively by speech recognition, the more difficult, unpredictable types of records are going to be more and more required of very skilled workers."
Impact of healthcare reforms
The mandated electronic medical records (EMR) systems have also left a mark on the future of medical transcription as a profession. EMRs can interface directly with transcription platforms, again evolving the role of a medical transcriptionist: medical transcriptionists must now be well-versed in EMR templates. In fact, many transcriptionists have become EMR facilitators or managers who train physicians and other healthcare workers in the system.
George Bernard Shaw said, "Progress is impossible without change, and those who cannot change their minds cannot change anything." As the role of medical transcriptionists continues to evolve, it requires more than anything a change in the mindset and a shift in the attitude of professionals in the field. Those who continue to adapt will continue to stay relevant in the healthcare environment.
Dare to change? Start by upgrading your skills to suit the emerging role of a medical transcription editor. Find out more about our medical transcriptionist training program now!
Already a medical transcriptionist or in a training program? What changes do you see in the future of medical transcription? Let us know in the comments below.