Top 5 Qualities of an Excellent Executive Assistant
Posted on 11.13.2014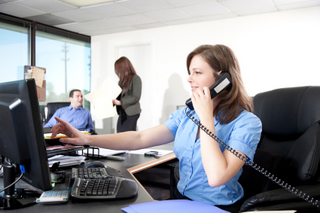 While completing your CareerStep Executive Assistant training, you will learn about the most important skills necessary to be successful in your career.  I'd like to pull out the top 5 qualities that will make you stand out above the crowd.
Confidential
As an executive assistant, you will be dealing with a lot of personal information specific to the individual you are working for. You may be privy to family issues, confidential emails, financial information, etc.  You will likely also be privy to confidential company information. Your ability to manage this information with the utmost discretion is an extremely important quality. With the prevalence of social media, this quality is so often lost in today's workforce. Remember, do you really want your dirty laundry aired all over tarnation? No? Neither does the executive you're working for!
Independent
Your ability to work, think, and act on your own is an extremely important quality for an executive assistant. Your job is to make your executive's life easier, not the other way around. If you are capable of working independently with little to no prompting, you will benefit not only the executive but the organization as a whole.
Attention to detail
Excellent attention to detail is crucial to being in the administrative field, and it is also often an innate quality of people who seek out these positions.  Still, it is a skill that you will want to hone and prove to your potential employer. If you don't innately have a keen eye for detail, it is something you can develop. Check out this great article for some details on how to beef up that skill set.
Multitasking
This skill/quality is a given in the business world, but what exactly do I mean by multitasking? I am not referring to the ability to check Facebook while talking on the phone with a client and answering an email at the same time. I'm referring to the ability to keep up with the fast pace of an office environment, while maintaining attention to detail and accuracy. You will likely be asked to juggle multiple important tasks at once, while making sure that everything is completed accurately and efficiently. Multitaskers can do this under pressure without too much difficulty.
If you aren't a great multitasker, that's okay. Being great at prioritizing can make up for any lack in juggling. Just lay out all the tasks, properly prioritize them according to urgency and importance, and go for it!
Effective
I think this is one of the most common qualities overlooked by job applicants. Sure, you can type 100 wpm and you know the proper format for letters and memos, but does your correspondence make sense? If you propose a new procedure or plan, do your steps make sense?  Effectiveness is end-result focused.
You can start honing this quality now by practicing effectiveness in your schoolwork. When you write an email to an instructor for assistance, carefully read it to make sure that the meaning and intent is clear. When you chat with your fellow learners on the forum, practice clearly and concisely expressing your opinions or tips.  These things may seem small, but they can help you get in an effective mindset before graduation.
I hope this information provides some good insight into becoming a great executive assistant. What are some qualities you think are important to being an executive assistant? Answer in the comment section below.