Facebooking for Referrals: Choice Chance Change
Posted on 01.10.2016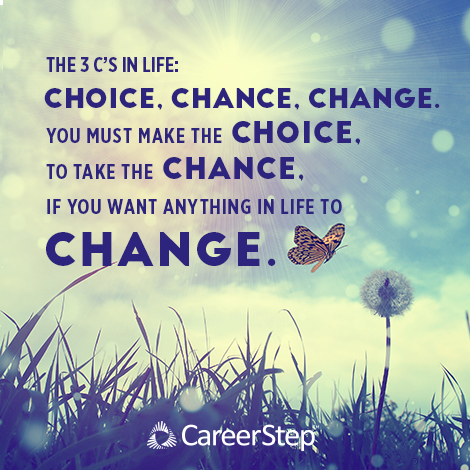 The start of the year traditionally means making resolutions or goals for the new year. Do you have friends or family who are looking to make a change in their career? Tell them about CareerStep's great programs and give them the choice to take a chance and change their future!
You can share on Facebook by following these 3 easy steps:
1. Right click on the image and choose "Save As"
2. In Facebook, choose "Upload Photos"
3. Share your story as your status update
Your friends and family would most love to hear how CareerStep has changed your life! However if you are struggling on what to say here's a few suggestions:

Suggested Text:
The education I received through CareerStep has changed my life! Take a chance and make the choice to learn more about CareerStep's online training at www.careerstep.com/lp/referral/?ref=XXXXX today.

I felt trapped in a job I didn't like because I didn't have the skills for the job I wanted. Then I made the choice to go back to school with CareerStep and now I have the job of my dreams! Change your life by visiting www.careerstep.com/lp/referral/?ref=XXXXX today!

As a military spouse, I knew my career options would be limited. But with the training I received with CareerStep, I was able to find a job that I love! Want to change your life? Visit www.careerstep.com/military?uid=refxxxxx today to see if you qualify to go back to school for FREE!
Remember to replace the xxxxx with the actual numbers of your referrer ID. If you've forgotten your referrer ID, send us an email at referral@careerstep.com, and we'll look it up for you.