Facebooking for Referrals: Learn Something Useful
Posted on 05.14.2017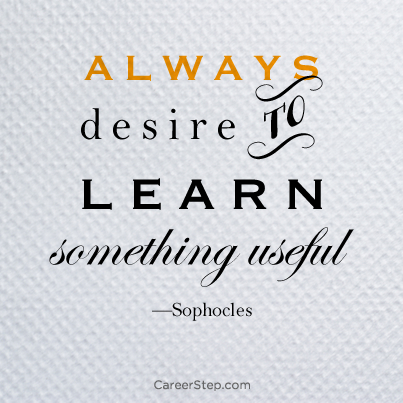 The Facebook post idea for this week is about encouraging your friends and family to better their lives by learning something useful.  And of course, we can't think of a better way to do just that than with one of CareerStep's career-ready online courses!
As a reminder, to share this on Facebook all you need to do is follow these easy steps:
1. Right click on the image
2. Select "Save As" and save to your computer
3. On your Facebook page, choose "Upload Photos" and select the image you just saved
4. Share your success story in the status section or use one of our suggestions
Suggested Text:
Thanks to CareerStep's online course, I was able to learn the skills necessary to become a Pharmacy Technician. Do you want to make a change in your life? Check out www.careerstep.com/lp/referral/?ref=XXXXX

I found a more rewarding career thanks to CareerStep's online classes.  If you've ever thought about a career in healthcare, technology, or administration, you should check them out! www.careerstep.com/lp/referral/?ref=XXXXX

I was able to learn something useful with my online classes at CareerStep, and with MyCAA funding it was FREE!!! If you are interested in learning something new, you should consider one of CareerStep's career certificate programs. Visit their page to learn all about it! www.careerstep.com/lp/referral/?ref=XXXXX
Remember to replace the xxxxx with the actual numbers of your referral ID. If you've forgotten your referral ID, send us an email at referral@careerstep.com, and we can look it up.
How has having a useful education from CareerStep changed your life? We'd love to hear your story in the comments section below!