Giving the Gift of Thanks to Military Members & Their Families
Posted on 12.15.2015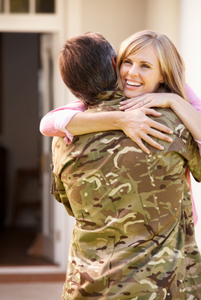 The holidays are here again—and for many military families, that means the heart-wrenching reality of celebrating cherished traditions far away from a loved one on deployment or assignment. In this special time of year, we want to recognize and express appreciation for the sacrifice and service you give.
Thank you for making a difference and giving so much from your heart and home for the benefit of our country. While that debt can't be repaid, grateful Americans try to say thank you in ways large or small, from military discounts on everyday things to major initiatives just for you. One such program offers the gift of a fulfilling career that fits the demands of your military lifestyle through the My Career Advancement Accounts (MyCAA) program.
The Gift of Education
MyCAA is the Department of Defense's way of saying thanks to the hardworking women and men who hold down the home front—which is no small feat. Military spouses spend long stretches alone, trying to take care of children and run a household while worrying about their loved one who's deployed. All of this combined with the on-the-move military lifestyle also makes pursuing an education and career challenging.
The Department of Defense recognized that while it can't remove most of those realities, it can at least give military spouses better access to education and job training for careers that fit the unique military lifestyle.
"Families play a crucial role in supporting our men and women on the battlefield," said Clifford Stanley, undersecretary of defense for personnel and readiness, in the 2010 relaunch of the MyCAA program. "When service members are confident that their families at home have access to resources and support, they are better able to focus on their mission. The Defense Department is committed to investing in military families. When we invest in the well-being of the family, we invest in the well-being of the force."
MyCAA focuses on the spouses of junior military members, helping them enter and advance in careers early on. All qualifying military spouses can receive up to $4,000 to advance their educations through degree programs, credentials, or licenses at any approved academic institution. These programs aim to provide training that translates to specific job skills in one of several growing fields.
What If I Don't Qualify for MyCAA?
Not all military spouses qualify for MyCAA, but that doesn't mean they're out of luck for military-friendly career-advancing education. There are numerous military tuition discounts and scholarships available to military members, veterans, and spouses who don't qualify under MyCAA. For example, CareerStep offers military tuition discounts and recently secured an additional funding opportunity for military service members, veterans, and spouses through a partnership with Fayetteville Technical Community College in North Carolina.
FTCC will subsidize training to all military service members, veterans, and dependents nationwide. This means anyone with ties to the military can receive career training for as little as $180—which is less than 10% of what the program would normally cost.
The Gift of a New Career and Future: Maisha's Story
CareerStep has helped more than 15,000 military service members and spouses through the gift of education and promising careers over the years, and finding ways to give back to military community is an important part of our mission. We are grateful to be able to participate in the MyCAA program and excited to offer such significant military discounts because they allow us to help military spouses like Maisha Martin.
When Maisha found herself facing divorce, she knew she needed more than a job to support herself and her two small children. She needed a career she could build with time and experience. With what little time she had left as a military spouse, Maisha used MyCAA financial assistance to complete CareerStep's Pharmacy Technician program in just 3 months—and was working in the field less than a month after completion.
"CareerStep enabled me to gain both book knowledge and, most importantly, experience through the externship program, all of which gave me everything I needed to successfully pass the PTCB [Pharmacy Technician Certification Board] Exam and obtain my national certification," Maisha said.
She said she would recommend CareerStep to anyone looking to "get a jumpstart on their career pathway."
"It's truly an investment that's guaranteed a return," Maisha said. "If you're a military spouse, it's an even better deal because you may even get a basically free education with MyCAA as was the case for me, and who would say no to free educational opportunities?!"
Learn more about CareerStep's flexible online career programs and military funding options to see if they're right for you at CareerStep.com or by calling 1-855-261-7366 today.