Referrer Spotlight: Tracy Ingram, Medical Transcription Editor Graduate
Posted on 10.10.2018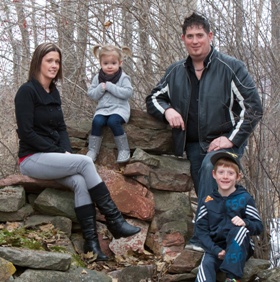 Working Mom with 2 Children
Before I ventured into taking the Medical Transcription Editor program, I was a working mom with 2 children and a very busy lifestyle.  I have a husband who works 2 jobs and at the time. I have a 2.5-year-old girl and an 8-year-old who spent about over 10 hrs a week doing extracurricular activities (which cost a pretty penny).
Even though I led a very busy lifestyle, I was always looking for something to do at home on the side.  I was an office assistant at my job outside of home and loved typing and anything on the computer, so I started looking into medical transcription.
I Chose CareerStep
After checking out a few different schools/companies that offered a medical transcription course, I made my decision to go with CareerStep. They seemed to offer the best support while you were taking the course. They also offered the best support when you were finding a job afterwards.
I took about a year to complete the course (really enjoying it, I might add). I immediately got a job right away. Since I have started working from home, I have been able to cut down my work outside of the home to part-time. This has let me spend much more time with my family. I love the extra income that medical transcription provides, especially since I can do it from the comfort of my home.
So Easy to Refer
Because I was so happy with my choice of the Medical Transcription Editor training with CareerStep, I started to post statuses about this on Facebook.  I immediately had people ask questions about how I got started. This made it easy for me to spread the word.  Within a couple months, I had 4 people who became very interested and signed up for the course.
CareerStep rewarded me for my referrals with CASH.  I was helping other people learn how to get extra income. I was also getting a bonus for just sharing my great experience and helping people to better their lives.