Career Success Story: Meet Michelle Gallegos
Posted on 07.11.2018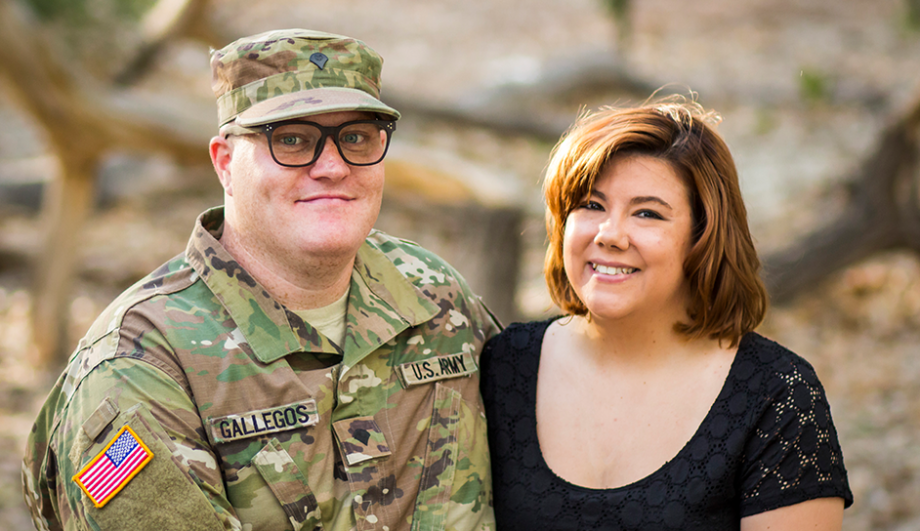 "I Like Taking Care of People"—Michelle Gallegos, military spouse
After an injury during basic training and her marriage to a fellow servicemember, Michelle wanted to continue her medical training, but military life presented hurdles. This is the story of how Michelle, a CNA, advanced her career in medicine with CareerStep.
Working in medicine has been the tradition in Michelle Gallegos's family. As a young girl, she grew up helping her grandmother, a licensed practical nurse (LPN), in a small clinic in Arkansas. Michelle filed paperwork and completed clerical tasks while her grandmother cared for patients. Watching her grandmother's caring example in the clinic and at home showed Michelle what a career in medicine could offer. CareerStep helped her take the next steps when she needed it most.
From Basic Training To Military Spouse
Michelle met her husband in 2014 while they were both in basic training at Fort Sill, Oklahoma, in the dead of winter—not exactly a conventional romantic beginning. He was enlisted in the Army, she was in the National Guard. They were in the same platoon and continued through basic training until Michelle sustained a shoulder injury that didn't improve after physical therapy.
After military service, Michelle's relationship with her now-husband began. "I got a message from him one day on Facebook, and we just started talking, and it went from there," Michelle said.
Michelle was excited to be a part of the military again—this time as a spouse.
"With moving all the time in the military, it's like, what can I do for work? What can I do for school?" –Michelle Gallegos, military spouse.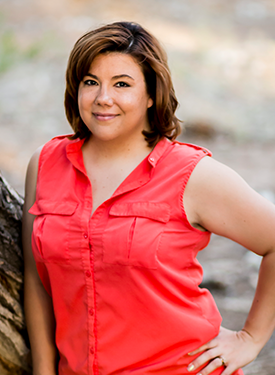 "It's a different world," Michelle said. "I definitely miss the military half of it, but I'm still able to be part of the military as a spouse, which is good."
But, as nearly all military spouses will understand, going to school and maintaining a career is tricky. Frequent moves mean many military families don't make long-term plans. Michelle wondered what she could do for school and work. She'd never be in one place long enough to finish a traditional degree, and getting a job at each new location meant finding a career that allowed for that mobility.
"With moving all the time in the military, you never know where you're going to be and how long you're going to be there," Michelle said.
Michelle had her CNA, but getting additional training would mean more job opportunities, better pay, and the ability to build a career she really wanted.
A Location-Friendly Career
With a CNA certification and a family history of working in medicine, pursuing a career as a medical assistant was an easy choice for Michelle.
"I've always loved anything to do with the medical field," Michelle said. "My CNA certification pushed me toward becoming a medical assistant, because I wanted to expand on that."
After seeing a Facebook ad for CareerStep, she decided to get more information. She learned that not only could she complete her coursework online, but she could also do it on her own time and receive funding from the MyCAA grant program.
"I was worried about us moving, so I didn't want to go to a traditional school," Michelle said. "If you get enrolled in a school while in the military and then you're leaving in two weeks, you've just wasted all that money because you have to up and leave, so I thought that CareerStep would be the best option for us."
Michelle had a year to complete the program, and the ability to work at her own pace meant she could fit her training in where it made sense with her schedule.
"The first couple of months [of my CareerStep training] I was working as a CNA, so I wasn't able to do as much schoolwork as I wanted," Michelle said. "Then we were getting ready to move, so I quit that job and focused solely on school. I was able to knock it out super quick."
Even without a professor or in-person classes, Michelle had all the support she needed to make it through the coursework. Simulations, forums, and easy ways to get in touch with trainers or technical support meant she was never stuck or frustrated for long.
"I've always loved anything to do with the medical field," –Michelle Gallegos, medical assistant.
After about seven months, she completed her coursework and went on to pass her Certified Clinical Medical Assistant (CCMA) exam. Now, as she and her husband move and transition to new assignments, she has the training she needs to find a job she loves, quickly.
A Career Helping People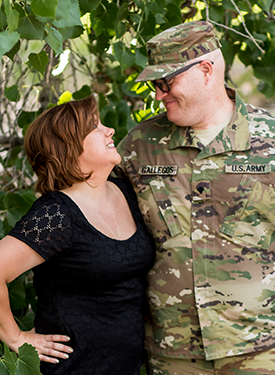 Michelle has long-term aspirations in medicine, and CareerStep brought her closer to those goals. As she has reflected on her experience as a learner, she has advice for others who might be in a similar situation.
"It may seem like you can't juggle home life, work life, and still be able to do school, but you can. It's definitely possible," she said. "You have the time that you can do it; just take it slow and get it done. Don't be hesitant to try it."
Eventually, Michelle wants to become an administrator at a hospital or clinic. Her certification and work as a medical assistant help her understand the day-to-day operations of a medical clinic and prepare her for that role in the future.
"If you're managing people, you want to know what it's really like in their shoes," she said. "Plus, my current role gives me income while I'm working toward the long-term goal."
As an added bonus, Michelle has loved sharing her experience with her husband, who is trained as an LPN. Her work enhances their marriage because they have interesting conversations about her coursework and the day-to-day aspects of working in medicine.
"It may seem like you can't juggle home life, work life, and still be able to do school, but you can. Don't be hesitant to try it."
–Michelle Gallegos
Michelle's grandmother was and still is an important part of her life. Her example as a nurse and Michelle's passion for helping people made medicine a natural career path. She just needed the tools to fit her lifestyle as a military spouse.
She found them in CareerStep.