Veterinary Receptionist Full Job Description
A rewarding career is closer than you think.
Get Started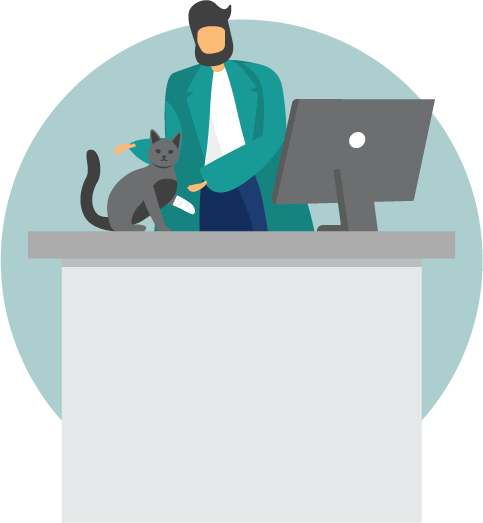 Job Duties
Our unique program prepares you to become a veterinary assistant and medical office manager. Your combined veterinary medical receptionist skills will make you a critical part of any vet clinic or medical office.
As a veterinary assistant you'll work with animals every day, helping to care for their injuries and treat their illnesses. A typical day in your new life will probably include:
Feeding, bathing, and exercising animals (the fun stuff!)
Monitoring and nursing animals after surgery
Restraining animals during exams and procedures
Cleaning and prepping equipment and facilities
As a veterinary clinic receptionist or medical office manager, your day is. All about keeping the administrative side of the practice running smoothly. Your days will include
Managing day-to-day operations
Creating and updating electronic health records
Scheduling and coordinating appointments
Verifying patient insurance
Work Environment
Veterinary receptionists work primarily in veterinary clinics, while medical office managers can work in any type of healthcare facility. Graduating with both skills gives you the option to work with animals or people. It also provides unlimited market flexibility, allowing you tap into a wide range of employment opportunities, wherever you live. You'll be well positioned to move into management too as you gain priceless experience. Your real-world veterinary receptionist skills are also a great first step towards becoming a veterinarian. Or for pursuing any lifelong passion to work with animals—doing rescue or volunteer work (and achieving your pet sainthood).
Pay Scale
Salaries vary by employer, location, and experience. But experts estimate the average annual wage for a veterinary receptionist is between $21,170 and $30,460.* In addition to steady pay, you may also qualify for invaluable healthcare and employee benefits.
Industry Demand
Veterinary clinic receptionist is a great career choice. And it's getting even better because it's related to two of our nation's fastest growing industries.
Veterinary receptionists are in demand, because people are pet crazy! Pet owners in the U.S. spent nearly $100 billion on their pets in 2019 with an expected 4% increase in 2020, ensuring ongoing need for well-trained veterinary assistants. It's estimated employment opportunities will grow 22% in 10 years.*