Veterinary Receptionist Job Description
A rewarding career is closer than you think.
Get Started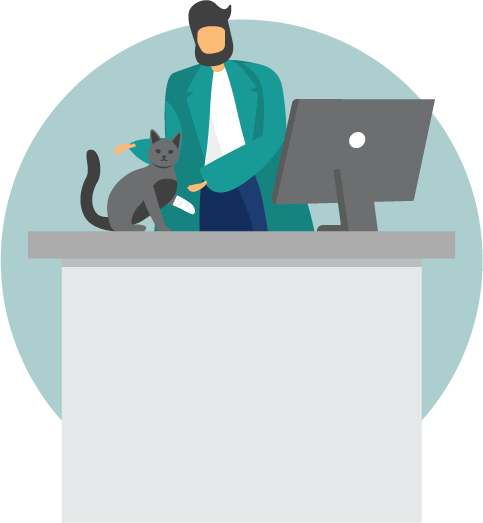 Job Duties
Our unique program prepares you to become a veterinary receptionist with skills that will make you a critical part of any vet clinic or practice.
As a veterinary clinic receptionist, your day is all about keeping the administrative side of the practice running smoothly. Your days will include:
Managing day-to-day operations
Welcoming patients and their owners to the vet clinic or practice
Creating and updating electronic health records
Scheduling and coordinating appointments
Verifying patient insurance
Work Environment
Veterinary receptionists work primarily in veterinary clinics or practices. However, the administrative skills you learn will give you the option to work with animals or people.
Your veterinary receptionist training also provides market flexibility, allowing you tap into a wide range of employment opportunities wherever you live. You'll be well positioned to move into management, too, as you gain priceless experience.
Your real-world veterinary receptionist skills can also be a great first step towards becoming a veterinary technician or for pursuing any lifelong passion to work with animals.
Pay Scale
The salary for this role varies based on facility, location, and experience, but the average annual salary is $32,600 per year.* In addition to steady pay, you may also qualify for invaluable healthcare and employee benefits.
Industry Demand
Veterinary clinic receptionist is a great career choice. And it's getting even better because it's related to one of our nation's fastest growing industries.
Veterinary receptionists are in demand, because people love their pets! As of 2023, over 66% of U.S. households owned at least one pet, ensuring ongoing need for well-trained veterinary receptionists.
*PayScale. "Average Veterinary Receptionist Base Salary" Payscale.com. Accessed May 2, 2023.
Statements found on PayScale are not a guarantee of any post-graduation salary, in part because the data used to estimate salaries includes workers from differing educational backgrounds, levels of experience, and geographic areas of the country.