Medical Coding & Billing Job Market
Get ready to love your job.
Get Started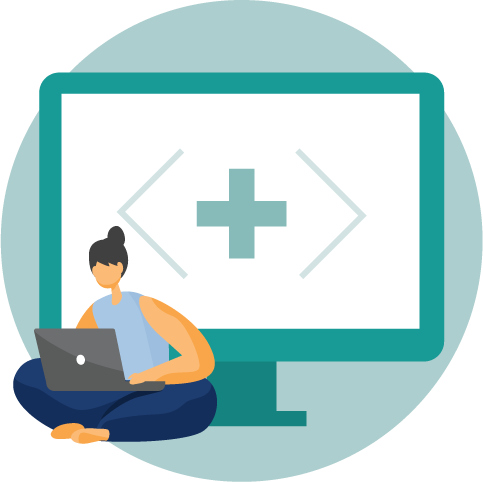 Job Duties
Medical billing and coding jobs consist of managing patients' electronic health records. It's critical work considering that every patient is someone's mother, husband, child, or other precious family member. As part of your daily responsibilities, you'll assign standardized codes to the procedures performed by the healthcare facility you work for. Sounds relatively straightforward, but this is the first step in helping patients get their medical bills covered, so they have one less thing to worry about.
All medical facilities need a medical coding and billing specialist because these professionals are the bridge between insurance and patient invoices.  A doctor or office manager could perform this type of job. However, patient care is their sole focus, so hiring an expert to do this is ideal. 
What does it mean to be a bridge between the medical office and insurance?
A medical coding and billing expert helps health systems manage insurance claims, invoices, and payments. Other responsibilities might vary, but the typical medical coding and billing work environment would include performing the following duties:
Handling coding for services, procedures, diagnoses, and treatments
Making preparations and sending out invoices or claims for payment
Making corrections to rejected claims
Tracking payments
Following up with patients and insurance companies about outstanding bills
Work Environment
As you progress iIn your medical billing and coding career, you could work in almost every type of healthcare facility: large hospitals, health clinics, small physician offices, coding outsourcing companies, and other healthcare businesses. It's also possible to find medical coding and billing remote jobs online that allow you to work from home.
Medical coding and billing are technically two distinct jobs. However, it's common for offices to hire someone who does both because they are so intertwined. The most important part of performing medical coding and bill job duties is to make sure there are no coding or billing errors so that payments are collected in a timely manner. 
So, what are some basic requirements to land the job? Here's a brief overview:
Familiarity with medical terminology
Basic math skills
Computer skills
Communication skills
Knowledge of basic office equipment
Pay Scale
The salary for a medical coding and billing job will vary by employer, location, and experience. But the median salary is $38,090 with potential for traditional employment benefits. Professionals with one credential often earn over $52,000 a year, with the highest 10% earning more than $73,370.*
Industry Demand
Our aging population and an increasing number of people insured through the Affordable Care Act have made healthcare one of the largest and fastest-growing industries in the nation. Along with the rising need for health services is the increasing demand for medical coding and billing professionals. In fact, medical billing and coding jobs are growing steadily. The Bureau of Labor Statistics estimates 13% employment growth over the next 10 years.*
If you're interested in medical coding and billing and believe this is a great career path for you, CareerStep can help you develop the skills you need for a job in medical coding and billing.
×
You're on the Path to a More Rewarding Profession
Fill out the form to take your first step towards a more exciting career.
By submitting this form, I agree that CareerStep may contact me regarding their programs and services via email, telephone, or text message to the email address and phone number provided, including the use of automated technology to any wireless numbers. I understand that this consent is not required to make a purchase. Message and data rates may apply.
We use cookies to ensure that we give you the best experience on our website. If you continue to use this site we will assume that you are happy with it.
Ok