Medical Coding for Inpatient Services Job Market
Get ready to love your job.
Get Started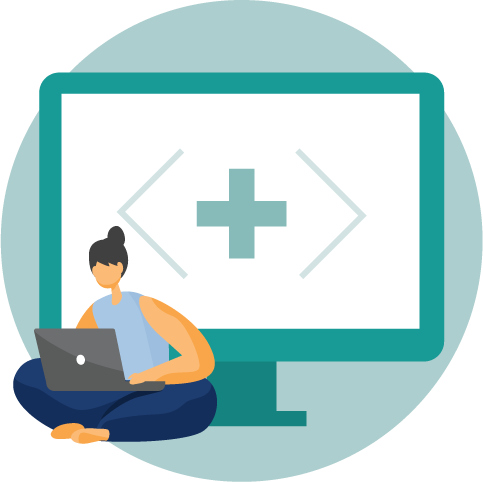 Job Duties
Inpatient medical coding professionals play a vital role in the healthcare ecosystem, translating medical records into standardized codes used to bill patients and third-party payers such as insurance companies and Medicare. This is done in facilities when a patient is formally admitted for specific procedures or care.
Here's a breakdown of their responsibilities:
Reviewing and managing patients' electronic medical records
Assigning codes to diagnoses and procedures
Acting as the liaison between healthcare facilities and billing offices
Work Environment
Inpatient coders generally work on-site in a facility or even remotely after certain standards have been achieved. They often find opportunities in hospitals working as contractors, or insurance companies. Inpatient coders can also grow into auditing roles.
Pay Scale
The salary for a medical coding job will vary by location, employer, and experience. But the median salary is $46,660 with potential for traditional employer benefits.*
Industry Demand
Our aging population and an increasing number of people insured through the Affordable Care Act have made healthcare one of the largest and fastest-growing industries in the nation. Along with the rising need for health services is the increasing demand for medical coding and billing professionals. In fact, medical billing and coding jobs are growing steadily. The Bureau of Labor Statistics estimates 7% employment growth over the next 10 years.*
If you've already established a career as an outpatient coder, you've got plenty of options in terms of career pathing. We can help you prepare for the next phase of your professional life.
*Bureau of Labor Statistics, U.S. Department of Labor. "Medical Records and Health Information Technicians." Occupational Outlook Handbook. Accessed March 10, 2023.
Statements found in the United States Department of Labor Occupational Outlook Handbook are not a guarantee of any post-graduation salary, in part because the data used to create the Occupational Outlook Handbook includes workers from differing educational backgrounds, levels of experience, and geographic areas of the country.