Help Desk Technician Job Description
Put your knowledge and skills to use by helping others navigate technical challenges.
Get Started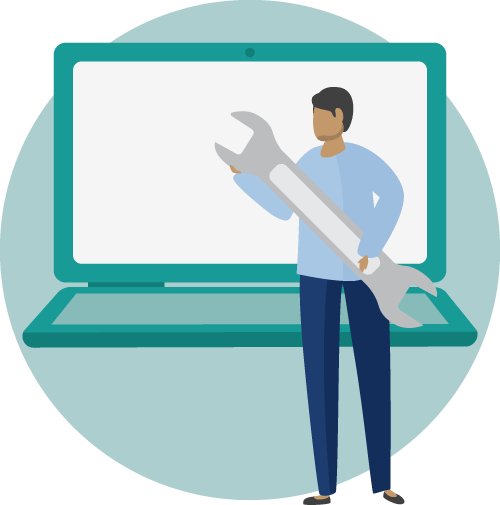 Job Duties
IT help desk professionals tend to be methodical problem-solvers with an innate ability to learn new skills and adapt to challenging circumstances. But what does a help desk technician do?
Day-to-day responsibilities will vary depending on specific needs, but here are some typical tasks:
>

Analyzing employees' computer problem

>

Setting up or repairing computer equipment

>

Documenting issues for easy reference

>

Walking employees through solutions and fixes

>

Installing and training users on new hardware or software

>

Providing remote technical support via internet or phone

>

Backing up and restoring files

>

Maintaining operating systems by repairing hardware and configuring software
Work Environment
There are two primary types of help desk technicians: In-house and Remote. Remote help desk technicians support via phone and online. In-house technicians work on-site in various types of hospitals and provide support for internal employees.
Pay Scale
The salary range for help desk technicians is remarkable: According to the Bureau of Labor Statistics, the median annual wage is $57,910 with the highest 10% earning more than $102,410 per year.*
Industry Demand
Technology is moving fast—so fast that health systems always need tech-savvy professionals to help keep their systems current and functioning properly. Thus, demand for help desk technicians is on the rise, pacing at about 6% growth over the next ten years, according to the latest update from the Bureau of Labor Statistics.*