Medical Transcriptionist Job Description
Type your way to a cushy career.
Get Started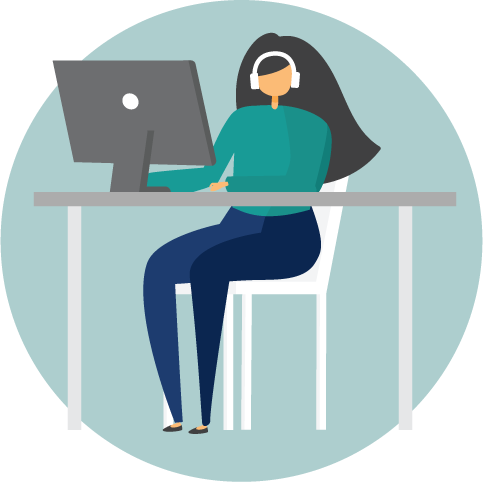 Job Duties
What are a medical transcriptionist's requirements? Generally speaking, they turn audio recordings into official written medical records. For either transcribing and editing, you'll need to develop the following skills:
Listening to doctors' audio notes
Interpreting medical language
Accurately typing and documenting notes in an approved format
Examining text files generated by speech-recognition technology
Interpreting medical language
Identifying and correcting common tech-transcribed mistakes
Accurately documenting notes in an approved format
Work Environment
Most medical transcriptionists and medical transcription editors work from home, setting their own hours and getting paid by what they produce. So we'd say the atmosphere is relaxed, the hours are flexible, and the dress code is casual—unless you're the type of person who hangs around the house in a suit. Pro tip: Set up a quiet, distraction-free workspace where you can concentrate and crank out clean documents. (Note that some medical transcription editors do work on-site at hospitals or clinics, in a more professional, controlled atmosphere.)
Pay Scale
How much does a medical transcriptionist make? Their median annual income is $30,100, but your yearly earnings depend on how much work you produce. The more motivated you are, and the more time you can devote to transcribing, the more money you'll make.*
Industry Demand
The healthcare industry is healthy. Despite a projected decline for this role, there are expected to be over 9,000 openings for medical transcriptionists each year over the next decade*. Employers require well-trained candidates for medical transcription editing roles, and CareerStep's hiring partners trust the training this program provides, putting you in a pretty sweet spot.
* Bureau of Labor Statistics, U.S. Department of Labor, "Medical Transcriptionists." Occupational Outlook Handbook. Accessed May 2, 2023.
Statements found in the United States Department of Labor Occupational Outlook Handbook are not a guarantee of any post-graduation salary, in part because the data used to create the Occupational Outlook Handbook includes workers from differing educational backgrounds, levels of experience, and geographic areas of the country.