Pharmacy Technician Job Market
A career with flexibility, mobility, and stability.
Get Started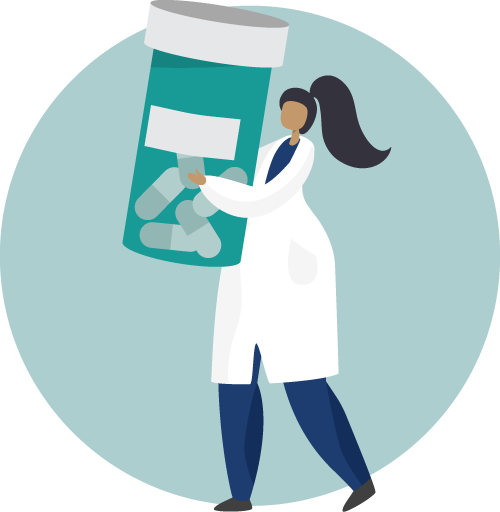 Job Duties
Your pharmacy technician training will prepare you to work under the guidance of a pharmacist. You'll be a crucial member of the team and a critical part of keeping the pharmacy running smoothly. A day in your new life will likely include the following:
Verify prescription information and dosage.
Assist in formulating, labeling, and dispensing medications.
Enter patient and order information into the computer system.
Create and update patient profiles.
Process and submit insurance claims.
Provide quality customer service to patients and healthcare providers.
You'll likely take on more responsibilities over time, possibly offering flu shots or taking a more active role with patient consultations.
Work Environment
Your pharmacy technician skills allow you to work in neighborhood pharmacies or grocery stores. Positions are also available in hospitals, clinics and outpatient centers, specialty pharmacies, assisted living facilities, nursing homes, mail-order pharmacies, tele-pharmacies, and nuclear medicine pharmacies.
Pay Scale
According to the U.S. Department of Labor, pharmacy technicians with formal training or national certification are in particularly high demand and often earn more than those without these qualifications. Specific pay rates vary by region, employer, and work setting; however, the U.S. Bureau of Labor Statistics reports that the median annual salary of professionals in the field is $36,740.*
You'll have upward mobility as a pharmacy technician too. It's a great first step on any healthcare career path, positioning you to move up and make more as a pharmacist, physician, nurse, or any other health professional. (It's a perfect part-time job and resume builder while earning your pharmacy degree.)
Industry Demand
Our aging population in combination with a greater number of people insured through the Affordable Care Act has made healthcare one of the nation's fastest growing industries. Snowballing along with it are pharmacy technician jobs, especially for those with formal training and certification. Labor Experts estimate 4% growth in pharmacy technician jobs in the next 10 years*, so becoming a pharmacy technician is a great career choice.