Computer Technician Full Job Description
IT professionals are needed in all fields.
Get Started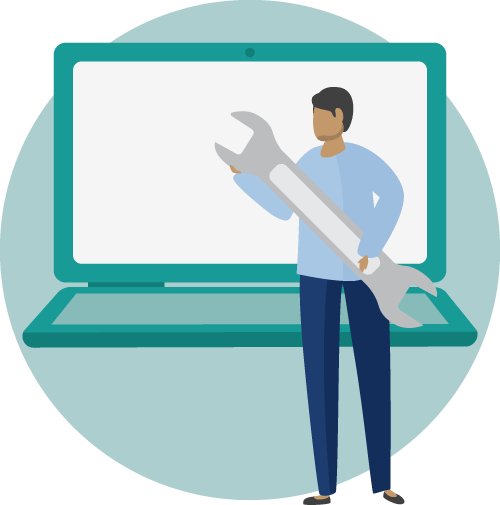 Job Duties
What does a computer technician do? Well, the work can vary widely, but computer technician jobs often include:
>

Installing hardware and software systems

>

Maintaining and repairing equipment

>

Troubleshooting computer issues

>

Setting up computer security measures

>

Configuring computer networks

>

Providing technical support on-site or via phone or email
Work Environment
With computer technician certification, your possibilities are endless because you can work practically anywhere.Computer techs are needed in almost every business and organization, both private and public. Employment opportunities range from working on internal IT teams within midsize to large companies to working in retail electronic stores to a myriad of technical support jobs—to name just a few options.
You can also do freelance, consulting, and contract work. You can work from home or operate your own business. As a freshly trained computer technician, your employment opportunities are pretty much wide open.
Pay Scale
How much does a computer technician make? Great question. According to the Bureau of Labor Statistics, the average salary is between $34,220 and $91,060 per year.*
Additionally, the computer tech field offers clear advancement and income-boosting opportunities as you gain experience, earn additional certifications, and further specialize your skills over time. You can also continue your training and move up to become a higher-paid network administrator or programmer.
Industry Demand
Companies need you today—big time. And they'll need you even more tomorrow. The Bureau of Labor Statistics estimates that industry employment will increase 6% over the next 10 years.