Decoding Interview Questions for Medical Coding & Billing Jobs
Posted on 09.15.2014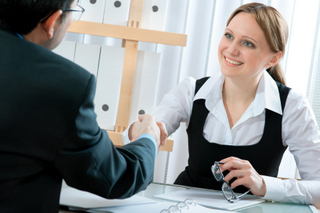 Medical Coding & Billing is an integral part of the healthcare industry and serves as an important part of the day-to-day operations of any facility or provider. According to the U.S. Bureau of Labor Statistics, the average medical billing and coding jobs salary is $46,590. With huge growth expected in the next few years, now is the perfect time to enter this essential field!
In order to handle all of the responsibilities the job entails, training, discipline, and professionalism are all very important factors — and employers will be on the lookout for potential employees who possess these qualities. If you've undergone medical coding and billing training and are ready to start working, here are a few questions you might be asked at an interview.
What Are Your Qualifications?
Employers will almost certainly ask about your qualifications. Have you undergone formal training? Do you hold the proper certifications? Have you worked in the healthcare industry previously? Answer these questions truthfully and simply: list out all of your relevant training, how long ago you received it, and any work experience you feel might be related. Remember that some experience might not have to be in the healthcare industry to be pertinent!
Where Did You Train?
Be sure to talk about where you received your training, and don't forget to mention any online medical coding programs that you have completed. If you received your medical billing and coding training online, be sure to talk about any and all of your program's credentials. For instance, talk about how CareerStep's course is one of the only AHIMA-approved online medical billing and coding programs in the country. This is an important detail that potential employers should definitely be made aware of.
Do You Have the Necessary Knowledge To Succeed in the Role?
Because medical coding and billing is such a technical field, don't be surprised if your interviewer asks a few questions — or even asks you to take a pre-employment test — to gauge your knowledge. These might be fairly casual questions or they could form a relatively extensive inquiry into how much you know. Be prepared to talk about medical terminology, standard procedures, and protocol questions. Take some time before the interview to brush up on any rough spots you might have had during your training so you can tackle the interview with the highest level of confidence!
Can You Handle the Heat?
Medical coding and billing can be a stressful position at times. Some interviewers may try to analyze how you might react in certain situations by posing hypothetical questions about what you should or shouldn't do. Potential employers will want to ensure you have the presence of mind to keep your cool in tense or uncertain situations. Again, brushing up on general policies and protocols ahead of time can go a long way toward boosting your confidence.
How Do You Stay Informed?
Any job in the healthcare industry is going to require a solid understanding of the entire industry. Employers may want to know your opinion on certain issues surrounding healthcare. A neutral, well-researched, and above all unbiased answer will probably be your best bet. Everyone is, of course, entitled to their opinions, but presenting an opinion in the right way can be as important as the opinion itself. Read up on current issues, like insurance and government healthcare reform, and know how these are affecting the industry as a whole.
Do You Have Any Questions for Us?
Many interviewers will set aside at least a small portion of the interview to discuss your expectations and answer any questions you may have. Be sure to prepare ahead of time so you don't freeze when it's your turn in the driver's seat. For example, if you are interested in medical coding and billing remote jobs, be sure to ask about the logistics of how this might work. You'll also want to ask about the work environment and get to know your direct manager's leadership style.
As with any potential employment opportunity, the best way to secure medical billing coding jobs is to acquire the necessary training from a reputable provider, present your skills and knowledge with confidence, and stay calm and collected during the interview. With a solid foundation and the right medical coding and billing training, you can easily convince any hiring manager you're the right person for the job!