What You Need to Know About the Durham-Humphrey Amendment
Posted on 03.29.2017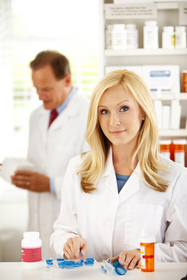 As pharmacy technicians, it is important to be familiar with the laws and regulations that pertain to your industry. Otherwise, you run the risk of violating laws you don't even know about. The system is complex, but it is very necessary to ensure patient safety. Interrelated laws, regulations, and standards help make sure that the marketing and dispensing of medications is carried out safely and in the public's best interest.
Let's continue our review of Pharmacy Law.  Today we are going to look at the Durham-Humphrey Amendment of 1951.  It's not as lengthy as a lot of the other laws we have studied, but after learning about it you will see how important it really is!

Durham-Humphrey Amendment
Passed by Congress on October 26th of 1951, this bill required any drug that was habit-forming or potentially harmful to be dispensed under the supervision of a health practitioner as a prescription drug and must carry the statement, "Caution:  Federal law prohibits dispensing without prescription."  Until this law, there was no requirement that any drug be labeled for sale by prescription only, so this amendment established the distinction between so-called legend (prescription) drugs and over the counter (nonprescription) drugs.  The amendment also authorized the taking of prescriptions verbally, rather than in writing, and the refilling of prescriptions.
*It might be interesting to know that former vice president Hubert H. Humphrey was a pharmacist in South Dakota before he became active in politics.  He co-sponsored this amendment along with Carl Durham, a pharmacist representing North Carolina in the House of Representatives.