Flexibility & Convenience: Benefits of Online Education
Posted on 12.12.2016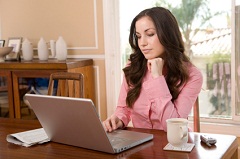 Ready for the next installment in our Benefits of Online Education series? So far we've looked at our entire Top 10 List and the benefits of Choice and Savings. Today we're going to take a look at the next two benefits on our list… drum roll, please… flexibility and convenience!
It seems that flexibility and convenience are becoming the buzz words of our day and age. Everywhere you look there's a new product that claims to make your life more convenient or a social discussion on the need for flexibility—in the workplace, the home, society in general, etc. There's no question that our modern pace of life demands that we find flexible and convenient solutions in almost every aspect of our lives—and education is no different.
Flexibility
Fitting school in around work and family responsibilities can be a real challenge. Going back to school with an online career training program gives students the flexibility to study on the schedule that fits their lives.
As we touched on in our last post, online programs hold the biggest appeal for non-traditional students—those who are going back to school after years away. They're typically older and they have work and/or family responsibilities that keep them busy and limit their opportunities to attend class. Flexibility is a HUGE requirement for them, which is why online training fits the bill so well.
Online education offers students the opportunity to study whenever it fits into their lives—whether that's at 5 a.m. before the kids wake up, on their lunch hour, or for a few hours late at night. Students no longer have to worry about missing class because of work or missing a parent-teacher conference because they had to study. Online education allows students to fit education into their lives instead of re-organizing their lives around education.
Convenience
Online training makes education more convenient for students living in rural areas, those with health concerns or disabilities, and those who frequently travel or move.
It's not always easy to get to class. You may have to commute long distances, battle with health problems that make it hard to go out, juggle babysitting or daycare schedules, fit classes in around frequent business trips, or any number of things. Online training makes education more convenient.
Online education has opened up training opportunities to many who were traditionally underserved by higher education institutions. By shortening the commute to simply a walk to the computer, providing the opportunity to study when you're feeling your best, letting students learn when their children are occupied or napping, and allowing frequent travelers to study no matter where they are, convenient online training has made it possible for nearly anyone to go back to school.
There's no denying that flexibility and convenience are huge drivers behind the demand for online education, but what have you seen in your experience? Are students truly looking for flexible and convenient education options or are these just nice perks?
In our next Benefits of Online Education post we'll take a look at instructor and student interaction and networking opportunities. See you next time!