2015 CPT Errata for Colonoscopies
Posted on 03.11.2015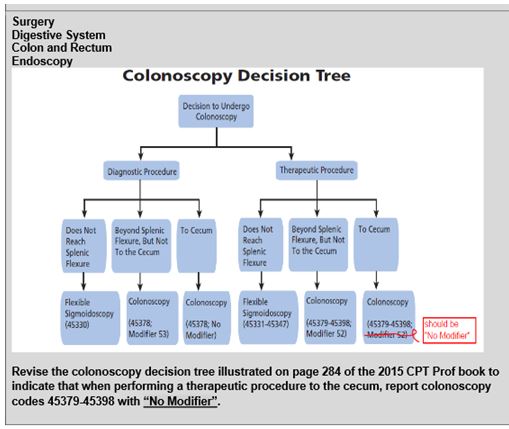 Every once in a while there is an error found in the printed CPT book. The American Medical Association (AMA) publishes an errata and technical corrections sheet noting the corrections that should be made. The errata and technical corrections page is available if you subscribe to the American Medical Association, otherwise you have to find this information from other posts, third parties, or blog articles like this one. For this week's blog post, I wanted to bring everyone's attention to a very important change from this year's errata sheet.
Now there are many changes noted in the corrections sheet; some are small, some reference codes or definitions not used or referenced as often, but this one change is so important everyone should open up their 2015 CPT book and take a pen to it. This change will make a huge difference in coding colonoscopies for 2015.
As the endoscopy codes have changed, it is most advisable to read the instructional notes to make the correct code selection. Referencing these instructions in addition to using the decision tree will ensure the correct code is selected.
This decision tree was published in the 2015 CPT book providing a nice visual of how to select the appropriate code for a colonoscopy. Decisions trees provide an excellent graph model showing how steps or choices will lead to an outcome.  If a colonoscopy is performed diagnostically, we will follow the chart through the diagnostic procedure line.  If it is performed therapeutically, then we follow that line instead. How far the scope was advanced will assist in making the next decision.
If your provider is not documenting how far the scope is advanced, now is a great time to have a conversation with the clinician to ensure you have the needed information for accurate coding. Clear documentation is critical to selecting the correct code.
If a colonoscopy is performed therapeutically, to the cecum, we should report codes from 45379-45398. A modifier 52 is not warranted in this situation.  A modifier 52 should be used on these codes if the colonoscopy reaches beyond the splenic flexure but does not advance to the cecum.
Please cross out the "modifier 52" in your CPT book for the very last decision square box as seen in the illustration above. This change is in keeping with the instructional notes found in the CPT book for an endoscopy. The instructional notes also provide great definitions with further instructions, so be sure to read up.
You're welcome, and good luck with the colonoscopy CPT codes for 2015!