How to Become a Pharmacy Technician [Expert Tips & Getting a Job]
Posted on 04.13.2015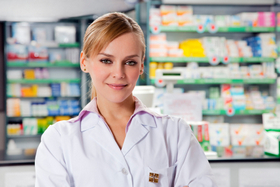 Pharmacy technician requirements are not as difficult to complete as you might think. If you'd like to know how to be a pharmacy technician, we've laid it out for you in six simple steps:
Enroll in a pharmacy technician training program
Apply for internships and/or externships
Research career opportunities in retail, hospital, or government positions
Complete your training program and start applying for jobs
Network with industry professionals and stay connected for career advancements
How to prepare for interviews and to land a job
Depending on the type of technician training program you choose, you can complete your training as soon as possible and begin your internship/externship to gain real-life experience. Once you're an official certified pharmacy technician, you can then work on earning additional certifications, such as the Sterile Product Certification and Pharmacy Compounding Certification.
The healthcare industry is booming with new career opportunities that don't require a doctorate (or even a degree!). In fact, the healthcare industry is estimated to add 2.4 million new jobs over the next few years, and 47,600 new jobs for pharmacy technicians (a 12% increase, which is faster than average). The best news? You can get trained and start working as a pharmacy technician as soon as possible. Check out these five tips on how to begin a career as a pharmacy technician.
1. Get Trained
A quality program is essential to starting your career since many states require pharmacy technicians to pass an exam and/or complete formal training. Formal training covers the fundamentals of pharmacology and working in a pharmacy as well as pharmacy law, record keeping, methods of dispensing medications, and more.
Getting a quality education has never been easier thanks to flexible, online pharmacy technician training programs. Be sure the program you choose is reputable and includes everything you need to start your career.
What is Involved in Becoming a Pharmacy Technician?
Pharmacy technician requirements include obtaining a high school diploma or equivalent, completing a pharmacy technician training program, and becoming a certified pharmacy technician.
During the course of your education, you can expect to learn and apply the following pharmacy technician certification requirements.
Medication safety and quality assurance
Sterile/non-sterile compounding
Pharmaceutical law and regulations, including HIPAA policy, the disposal of hazardous materials, handling, storage, and documentation
Pharmacology, which includes the knowledge of common side effects of certain medications, generic vs. brand name pharmaceuticals, etc.
Billing, data entry, and inventory management
Certification vs. Traditional Schooling
Before you dive into your education, you must first decide if you want to enroll in an online pharmacy technician program to earn your certifications, or pursue traditional schooling at a physical campus location.
There is arguably no wrong answer; it all depends on your unique situation and what route will better assist you in achieving your goals.
You already know what traditional schooling would entail: a couple semesters spent in a classroom with like-minded individuals who are vying for the same career path. Traditional schooling has its advantages, such as the engagement that comes from learning in a classroom and the ease of accessibility when you'd like to meet with your instructor one on one.
However, traditional schooling also comes with its drawbacks. For one, choosing to complete your pharmaceutical training at a college campus will require you to commit to a rigid course schedule that won't bend when it comes to your schedule outside of school. This can be quite difficult for those who are juggling school, work, and family. Traditional schooling is also known to take a bit longer and you're forced to learn at the pace of your instructor and classmates.
Online schooling, on the other hand, provides learners with a flexible schedule that allows them to learn at their own pace and in between their other responsibilities. For example, the Pharmacy Technician Program at CareerStep is fully accredited by the American Society of Health-System Pharmacists (ASHP/ACPE) and offers flexibility when you need it most.
This online program can be completed in as little as three months and comes fully equipped with PTCB exam preparation, a board-approved certification and exam voucher, and the option to enroll in an externship with a local pharmacy—which provides you with 200 hours of hands-on experience after your 400 hours of training.
2. Internships and Externships
An internship or externship at a local pharmacy provides valuable experience essential for entering the workforce as a pharmacy technician. Fortunately, career-focused programs often include an externship with the career training. For example, CareerStep partners with Walgreens and CVS Pharmacys to provide all learners with an externship.
Maisha Martin, a certified pharmacy technician (CPhT) and single mother of 2, found her externship essential to her education and employability. She reports, "CareerStep enabled me to gain both book knowledge and, most importantly, experience through the externship program, all of which gave me everything I needed to successfully pass the PTCB Exam and obtain my national certification. The externship played such a large role in my success because I learned so much and I was able to gain hands-on experience and network with the pharmacists there."
Getting a Pharmacy Tech Internship
Do you want to know how to get a job as a pharmacy technician? Get an internship or externship. Not only does the hands-on experience look great on your resume, but recent studies show that 69% of medium to large companies are more likely to hire their own interns than go with an outside hire. Externships and internships can get your foot in the door and help you make a good impression on upper-level management.
Before you start sending out applications, you must first decide if you want to work in a retail or hospital setting. As an intern at a hospital, you'll be expected to know a little bit more about various medications, as well as how to mix compound medications, IV fluids, and other substances that are used in a hospital. You may also be tasked with the responsibility of reading and updating patient charts.
Here are a few pro tips to help you land a pharmaceutical internship in retail or at a hospital.
Talk with someone who has experience in the industry to get a feel for what your employers will be looking for and what they'll be impressed with.
Contact your school to find out if they help their students acquire internships through a designated program or partnerships.
Start looking for internships early, as many companies only recruit new interns during certain times of the year. Mark these dates in your calendar so you never miss an application deadline.
Update your resume and practice your interviewing skills with a friend or someone at your school. Take advantage of online communities to seek out advice and insight.
Make a list of places you'd like to work at, find out which ones are recruiting new interns, and submit your application. And always, always follow up! If you're a CareerStep learner, this tip won't be necessary, since we've already done most of the grunt work for you. All you need to do is initiate the externship phase, and we'll help you find the right opportunity at a local pharmacy.
How Much Do Pharmacy Interns Make?
According to the most recent survey, pharmacy interns are paid an average of about $14 an hour, which is a bit higher than most other internships. PayScale backs this information with an estimated annual salary that can range from $21-37K.
3. Consider All Work Opportunities
Pharmacy technicians are needed throughout the healthcare industry. Look for work opportunities outside traditional store-front pharmacies and drugstores. Other options include state, local, and private hospitals as well as grocery stores and clinics. Even outpatient centers, nursing homes, assisted living facilities, mail-order pharmacies, telepharmacies, and nuclear pharmacies have great jobs waiting for qualified pharmacy technicians. Remember Maisha Martin? She was hired at a pharmaceutical call center where she answers patients' questions about their medications.
Types of Pharmacy Technician Jobs
Retail Jobs
Working as a retail (or community) pharmacy technician is a popular career path in the setting of a local drugstore or grocery store. This position requires apt customer service skills, as you'll be communicating with patients all day long, and the hours can be tough since many pharmacies now stay open 24/7. What makes positions in retail pharmacy such a popular choice is the availability and variety of locations.
Hospital Jobs
Hospital pharmacy technicians are stationed deeper in the healthcare setting, both physically and metaphorically. Pharmacists in this setting are expected to know more about medications and medical processes than retail pharmacists, and will work more closely with healthcare providers and patients to ensure the proper dosage and prescriptions are provided. Because patients usually need their prescription right then and there, optimal speed and accuracy are a must for the hospital setting.
While hospital positions are abundant, they're not as available as those in the retail sector. With changes to the certification exam coming in January of 2020, Institutional (hospital) positions are not considered entry-level.
4. Use Job Portals
Even though there are many job opportunities for pharmacy technicians, it is a competitive field that requires proactivity and diligence on your part to land a job. Job portals such as Indeed and Monster are usually updated daily with fresh openings and provide pharmacy technician job descriptions, ensuring you know the details and requirements about each position. Check for new postings every day or two; a job search is a job in and of itself and requires patience and dedication.
5. Stay Connected
It's no secret that landing a great job is often about who you know. Take full advantage of your externship by networking with the pharmacists, technicians, and managers. Make the most of these connections by staying in touch through social media platforms—particularly LinkedIn. LinkedIn not only helps you stay in contact with industry professionals you know, but it can also help expand and organize your professional network.
Another great resource to become connected with the pharmacy technician world is the Pharmacy Technician Certification Board (PTCB). This organization uses social media to share news of the industry and to help current and future CPhTs connect and learn more about the profession. Additionally, check out PharmQD to keep up-to-date on the latest pharmacy technician news. This online community provides real-life success stories, job opportunities, pharmacy technician job descriptions, and information on the industry.
6. Prepare for Interviews
Regardless of how great you look on paper, you'll still be expected to interview before you're given a job. Use these tips to prepare for your interview and make a fantastic impression.
Before
Conduct a mock interview with a friend or by yourself. Consider the questions they'll ask, how you'll answer, and what questions you have about the position.
Print off extra copies of your resume and bring them with you to the interview in a binder or folder to keep them clean and safe.
Bring a notebook and something to write with in case you need to take notes.
Research the typical expectations and duties for the position before your interview, that way you know what they'll be looking for and what skills matter most in a job like this.
During
Dress professionally, no matter where you're applying to. Show them you're taking this opportunity seriously by presenting yourself appropriately. You don't need a full-on suit, but a pair of slacks, a business skirt, or a nice shirt can make a great impression. This includes grooming: shave, shower, whatever you need to do to exude professionalism.
During your interview, make eye contact, speak up, smile, shake hands, and straighten up in your chair. You want to appear confident in your own abilities, even if you're a little (or a lot) nervous. Most importantly, listen before you answer a question.
After
After your interview, make sure to send a follow-up email to thank your interviewer for their time and consideration.
Check back again in a few days to inquire about the opening and remind them of who you are and how much you're looking forward to working with them.
How Long Does It Take to Become a Certified Pharmacy Technician?
Becoming a pharmacy technician timeframe varies depending on the type of technician training program you choose. CareerStep's Pharmacy Technician Program is designed with flexibility, so you can complete the course without throwing a wrench in your busy schedule.
Once you've completed your training, you should walk away with a certification as a licensed pharmaceutical technician and an internship or externship at a local pharmacy for hands-on experience. Before or during your internship, you can start working toward additional certifications that will further your career and increase your credentials—and your salary.
One such example is the Sterile Product Certification, which completion time varies, depending on the course you choose and how much time you can spend on it.
Pharmacy Technician Certification Requirements
A high school diploma or equivalent
A background check
PTCB Certification policy compliance
A passing score on the PTCE
What Qualifications are Necessary to Become a Pharmacy Technician?
As you study how to become a pharmacy technician, you'll want to pay special attention to the basic pharmacy technician requirements. A high school diploma or equivalent is required, as well as pharmacy technician training with an accredited program. You must achieve a passing score on the PTCE, obtain your certification, and maintain an active certification going forward.
In addition to these pharmacy technician requirements, there are also a few necessary skills to thrive in a career such as this one.
Strong organization and attention to detail
Able to work without constant supervision
Exceptional communication skills
Customer service experience
Accurate data entry
Legible handwriting and fluent English
The ability to stand for long periods of time
What Courses are Needed for Pharmacy Technician?
As we have previously stated, one must complete a pharmacy technician program to become a pharmacy technician. This can be done through a traditional college course education, or through an expedited online program—so long as either option is accredited by the ASHP/ACPE.
Can You Become a Pharmacy Tech Without Going to School?
Most states require some variant of formal training, although this varies from state to state. Research your state's local requirements on how to become a pharmacy technician to find out if additional schooling after high school will be necessary.
For some, continued education after high school is a concern—especially if you're choosing to pursue this career path later in life. With so many different responsibilities to juggle ranging from work to family obligations, it can seem unrealistic to commit to additional educational responsibilities.
This is what makes the Pharmacy Technician Program at CareerStep such a fantastic choice. Our course is designed to blend seamlessly with your current schedule, so you can continue your education and better your future without burning out or getting discouraged.
Can You Get a Pharmacy Tech Job Without Being Certified?
Almost every state requires pharmacy technicians to become certified before entering the job field, however, this too may vary depending on where you live. Research your local requirements on how to become a pharmacy technician to find out if you need to earn your certification before you can begin.
Taking the Pharmacy Tech Exam
If you're ready to take the next step toward your future as a pharmacy technician, this section will help you prepare for the Pharmacy Technician Certification Exam (PTCE) and pass with flying colors.
Study Tips
Take thorough, detailed notes throughout the duration of your pharmacy technician training program.
Develop an organized system to store all of your notes and assignments for easy access while you study certain topics to prepare for the exam.
If you haven't had much experience with computer-based exams, you can take advantage of the tutorial offered by Pearson VUE.
Speak with someone who has recently taken the exam to get a feel for the types of questions that you need to prepare for.
Take a practice test beforehand. The Pharmacy Technician Certification Board (PTCB) provides two different practice exams in their Official PTCB Practice Tools.
Can I Take the Pharmacy Tech Exam Without Going to School?
You can take the PTCE exam without going to school first, but at $129 a pop, why risk a failing grade? We highly recommend that you receive some sort of formal education or training before you attempt to take the Pharmacy Tech Certification Exam.
How is the Pharmacy Tech Exam Scored?
There are 90 multiple-choice questions in the exam, and 80 of them are scored. Your final grade will be determined by how many of the 80 scored questions you answer correctly. You must receive a score of 70 or higher on the exam to earn your certification.
How Long is the Pharmacy Tech Exam?
The Pharmacy Tech Certification Exam is two hours long, with 90 multiple-choice questions, a brief tutorial, and a post-exam survey.
Benefits of Working as a Pharmacy Technician
Because of the ever-increasing job availability, a starting annual salary of about $30K, and flexible hours, this position is the perfect choice for stay-at-home parents who want to dive back into the workforce, military spouses who move around frequently, college students who need to make money while juggling work and school, and anyone else in need of an adjustable work schedule with great pay.
Whether you need to work mornings or nights, you're sure to find an accommodating position in this industry. Being that many pharmacies are now operating 24 hours a day, you have the opportunity to choose work hours that coincide with your busy schedule and have the option of working part time or full time, depending on the location.
Let's Begin
Flexible hours, great pay, and continual advancement in a stable career with ample availability no matter where you live? Yes, please! Becoming a pharmacy technician may sound a little intimidating at first, but the process is well worth the effort once you've landed your first job.
Let us help you get there! Contact CareerStep for more information on our accredited Pharmacy Technician Program.