Prepare in Advance for Medical Transcription Certification Exam
Posted on 01.19.2015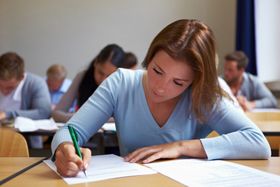 Once you've finished your medical transcription training program, a great way to help your resume stand out is to get certified. There are two types of voluntary credentials offered by the Association for Healthcare Documentation Integrity (AHDI), which is the leading medical transcription industry association: Registered Healthcare Documentation Specialist (RHDS) and Certified Healthcare Documentation Specialist (CHDS). The RHDS is intended for those who are new to the medical transcription field, and the CHDS is for more experienced medical transcriptionists. As a new medical transcriptionist, you will be more qualified for the RHDS credential, so we've collected a few tips to help you prepare for your RHDS medical transcription certification exam well in advance.
RHDS Credential
The RHDS exam is meant for new medical transcription graduates.  It is a 103-question test that contains both multiple-choice questions and fill-in-the-blank audio transcriptions. Upon successful completion of the exam, you will be awarded a certificate displaying the validity of your credential.
Graduates of CareerStep's online medical transcription training and medical transcription editor training receive a free certification exam voucher for the RHDS exam upon graduation. Graduates generally report that they are well prepared for this exam and are able to earn this industry credential.
Proper Training
The first step toward taking the RHDS exam is to enroll in a medical transcription training program. A good training program should include education on medical transcription necessities like medical terminology, grammar and punctuation, anatomy, pharmacology, and many other important subjects. The medical transcription program offered at CareerStep is AHDI approved and covers all of these topics and more, ensuring you will be well prepared for the certification process.
Create a Schedule
Proper preparation for any exam requires dedication and self discipline. Set aside a time every day just for studying, and don't let yourself be disturbed or distracted. Do your best to use this time effectively, and try not to let yourself be interrupted. Many people find that studying early in the morning or late at night can help minimize potential distractions, allowing them to focus more completely on preparation.
Study Materials
AHDI has released a Credentialing Candidate Guide that provides exam blueprints, information on exam prep resources, study materials, and answers to frequently asked questions for the certification exam. AHDI also provides a number of self-assessment products that can help candidates evaluate whether or not they are ready to take the exam. Although not the real thing, practice exams can give you a very good idea of what to expect from the test. You can buy these online on the AHDI website.
It is important to note that while holding the RHDS credential will help you stand out to prospective employers, it is not a prerequisite to finding a job as a medical transcriptionist. Most medical transcriptionists choose to work for a few years, gain some real world experience, and then take the CHDS certification exam (the one meant for those with a few years of experience) when they feel that they're ready to move on to a managerial position. The decision is yours. Move at whatever pace you feel most comfortable with and best of luck in your medical transcription career!