Military Spouse Scholarships: Get the Low-down On MyCAA
Posted on 07.11.2016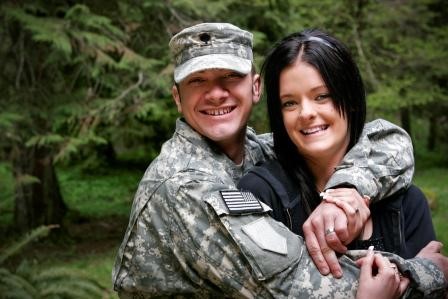 Introduction:
Brittany Emerine, CareerStep alumnus and military wife, found herself in a common situation that many military spouses face. Six months into their marriage, her husband was called to serve in Afghanistan and Brittany went back to live with her parents. When her husband pointed out that she seemed to be drifting a bit, she decided to use her time better and go back to school. She joined CareerStep's Pharmacy Technician program using the MyCAA grant for military spouses, which covered the entire cost of the program!
MyCAA (or the Military Spouse Career Advancement Account) is a game changer for military spouses like Brittany. This program, part of the Spouse Education and Career Opportunities (SECO), sees the tough situation these women and men face and provides opportunities for them to realign their focus while their spouse serves the country. It incentivizes career education and training and helps them fulfil their professional goals, which many of them might have put on the backburner.
If you are a military spouse, you stand to gain a whole lot by learning about MyCAA. Read our comprehensive fact sheet on the MyCAA military spouse scholarship to learn how these benefits may apply to you.
1. What is MyCAA?
a. A career development and educational assistance program aimed exclusively at active-duty military spouses.
b. It provides financial assistance to eligible military spouses to pursue licenses, certificates, certifications, or associate degrees in a range of portable fields (as flexibility and mobility are often demanded from   military families.)
c. A demonstration version of the MyCAA program was implemented across 8 states beginning in 2007.
d. Following the demonstration program, a full-scale MyCAA tuition assistance program was launched by the Department of Defense (DoD) in 2009.
e. However, an overwhelming demand that saw 136,000 spouses enrolled in the program in less than a year for an estimated $250 million in benefits as per a RAND Corporation report made MyCAA unsustainable at this scale.
f. The program was scaled back to contain costs and re-introduced in 2010 with limited eligibility, approved uses, and the amount of the scholarships.
2. What is the purpose of the program?
a. The end goal of the MyCAA program is to encourage military spouses to become active members of the workforce.
b. The program pays for them to receive the necessary credentials required to gain employment in high-demand and high-growth portable career fields.
c. It is observed that a majority of military spouses are unemployed – and the ones who are employed earn less than their civilian counterparts.
d. According to the Military Spouse Employment Report published in February 2014, 90% of military wives reported being underemployed with respect to education, experience and/or both.
e. A whopping 30% of female spouses in the 18-24 years age group were reported to be unemployed. The rate of unemployment among military wives in the 25-44 years age group was 15%.
f. The report also revealed that armed forces female spouses in general earned 38% less than their civilian counterparts.
g. It is gaps like these in the employment status of civilian and military spouses that MyCAA aims to bridge.

3. Who is eligible for MyCAA funding?
a. Spouses of active-duty service members in the Army, Navy, Air Force, Marines, and National Guard.
b. The service members must be in the E-1 to E-5, W-1 to W-2, or O-1 to O-2 pay grades.
c. Additionally, military spouses must be able to start and complete their coursework while their military sponsor is on active duty.

4. Who is not eligible?
a. The MyCAA program does not cover spouses of the Coast Guard (because the CG is under the Dept. of Homeland Security and MyCAA is a Dept. of Defense program).
b. Military spouses who are themselves active-duty members of the military are not eligible for MyCAA funding.
c. Military spouses who are legally separated from their partner are also not eligible.

5. How much is the assistance?
a. As part of the MyCAA program, eligible military spouses receive up to $4000 in tuition assistance.
b. At no time does money exchange hands between the candidates and the program owner. It is paid directly to the school.
c. Payments are made directly to schools via MyCAA's electronic payment system.

6. What does the program pay for?
a. Tuition cost for education and training courses.
b. Examination fee leading to an associate degree.
c. Fee for obtaining a license, certificate, or certification.
d. Cost of books and supplies if it's a part of the course program.

7. What does it not pay for?
a. Application fee, graduation fee, computers, student activity cards, child care, parking, transportation, medical services, uniforms, books, supplies, equipment, lodging, and private licenses that are for personal rather than occupational purpose.
8. What's the application process?
a. Go to the MyCAA website – https://aiportal.acc.af.mil/mycaa – and create an account.
b. Provide all the necessary information for a complete profile so your eligibility can be verified.
c. Once found eligible, create your Career and Training Plan and submit it via the MyCAA account system.
d. Request financial assistance within 30 days of the course start date with complete information such as school names, course codes, course titles, start/end dates, and course costs.
e. Cancellation or modification requests can be made up to 10 days prior to the program/course start date.
f. It takes about two weeks for the approval to come where the funds are directly released to the school.
g. CareerStep is one of the top-rated military-friendly schools that encourage military spouses to use the MyCAA funding to their benefit. With flexible online training programs that range from healthcare to technology to administration, this is the perfect springboard for military spouses to dive into the career of their choice.
9. What is a MyCAA-approved school?
a. Colleges, career schools, education, and training institutions that have been approved for participation in the MyCAA program.
b. To receive funding, it is essential that military spouses choose a MyCAA-approved school like CareerStep.
10. Are there any resources I can use?
a. The MyCAA website has all the necessary information that you may need regarding the program.
b. Military spouses can also reach out to their school's academic advisors or Military OneSource career and education consultants for assistance.
Life with a loved one in the military can be quite a roller coaster ride. But why allow the stress of trying to pay for an education add to that? Why waste what is rightfully yours and has the potential to change your life? Apply for the MyCAA scholarship and enroll for a career training program now!