RETAIL PHARMACY VS INSTITUTIONAL PHARMACY
Posted on 02.27.2013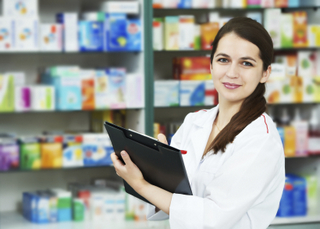 Do I want to work in a Retail Pharmacy or an Institutional Pharmacy? You may have already asked yourself this question in the course of your pharmacy technician training. There are certainly differences to consider.
The biggest distinction between the two is the public interaction you have on a daily basis. Retail pharmacies are designed to serve the needs of their customers. You will be directly helping customers, stock shelves, and record patient information in the pharmacy computer. In the retail pharmacy, a technician needs to do many near-simultaneous tasks with focused care and attention to detail. The technician greets customers on the phone, in the store, and at the drive-through window. The pharmacy technician plays an important role in reducing patient waiting time by efficiently and correctly scanning or entering information into a patient database.
The technician also assists with the filling of prescriptions by doing such things as retrieving drug stock bottles and labeling medications to be dispensed to patients. A pharmacy technician may also be involved in resolving insurance issues.
Let's take a look at some of the job duties unique to a retail pharmacy:
Greeting customers and receiving written prescriptions
Answering the telephone and referring call-in prescriptions to the pharmacist
Initiating refills requested by patients in person or by telephone
Resolving questions about the prescription (name, directions, and so on) with the physician's office
Updating the patient's profile, including patient demographics, allergies, and health conditions
Entering or updating billing information for third-party reimbursement
Entering new prescriptions (or refill requests) into the patient profile
Preparing medication container labels for prescriptions, including partial fills and out-of-stock medications
Submitting prescription claims online to insurance providers
Contacting insurance companies to resolve eligibility or prescription processing issues
Retrieving drug products from storage in the restricted prescription area
Counting, reconstituting, packaging, and repackaging products
Returning stock bottles to the proper storage location
Distributing labeled medications to the patient after final verification by the pharmacist
Offering a medication counseling opportunity for the patient
Accepting payments, including copayments
Storing completed prescriptions for patient pickup
Retrieving medications for patient pickup once patient verification is completed
Hospital and community pharmacies do have some things in common. Most of the prescriptions dispensed at a community pharmacy are oral medication or prepackaged specialty medications, such as inhaled drugs for the lungs, ophthalmics for the eye, otics for the ear, and topicals for the skin. Hospital pharmacies dispense those too; however, the range of drugs dispensed is much broader in hospitals. They may also dispense parenteral drugs, biological agents, and potentially hazardous chemotherapy medications. As a hospital pharmacy technician, you would play a key role in preparing and delivering the right drug to the right patient at the right time.
Let's take a look at some of the job duties unique to a hospital pharmacy:
Filling medication orders (as opposed to prescriptions)
Routinely preparing 24–72 hour supplies of patient medications in a form appropriate for a single administration to a patient (as opposed to a 30 or 90 day supply)
Prepackaging medications for patient use
Delivering stat orders or emergency medications to the patient care unit or patient room
Stocking patient care unit with floor stock medications and supplies
Preparing parenteral products using aseptic techniques
Following universal precautions in the IV room
Ensuring that biological and hazardous agents are handled and disposed of properly
Auditing pharmacy services for evaluation of service accuracy and quality
Maintaining a drug information service and providing drug information to the other healthcare professionals in the institution
Preparing and maintaining a formulary—a select list of approved drugs
Conducting drug use evaluations, such as appropriate use of antibiotics
Providing in-service drug-related education to nurses and physicians
Taking and documenting medication histories on admission
Monitoring patient outcomes
Counseling patients at discharge from the hospital
Participating in clinical drug investigations and research
Providing expert consultations in such areas as pediatric pharmacotherapy, nutritional support, and pharmacokinetics
No matter what direction you choose, retail or institutional, you will really enjoy being a pharmacy technician.