Understanding Your Scope of Practice as a Pharmacy Technician
Posted on 07.08.2019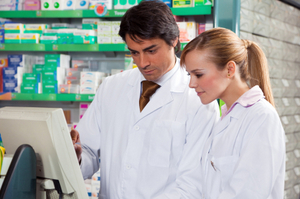 As a pharmacy technician, it is very important that you understand what you can and cannot say within your scope of practice. If you provide any advice outside of this scope, you're breaking the law, so it's very important to understand these restrictions.
What Is the Scope of Practice for a Pharmacy Technician?
The scope of a pharmacy technician is diverse, rewarding, and full of opportunities to advance. As a pharmacy technician, your primary role will be to enable the licensed pharmacists with the assistance they need to perform their daily responsibilities. This will include communicating with patients, healthcare providers, and insurance providers, filling prescriptions, receiving inventory, maintaining equipment, and more.
Let's say, for example, a customer comes to your pharmacy and gives you a written prescription request. Your responsibility is to verify the information on the request, check inventory to ensure you have the medication in stock, and fill the medication in a designated time frame. To fill the prescription, you'll need to verify the dosage, count it out carefully to ensure you're giving the patient the correct amount, and prepare the medication label.
Once finished, it's likely that you'll need to ask the licensed pharmacist to review your work before you can give it to the customer. You may also need to prepare and submit insurance claims, call the healthcare provider to verify information, and so on.
As a pharmacy technician, you are not trained or licensed to advise customers with regard to medications and their use—this includes OTC drugs and diet supplements. For example, if a customer asks about any potential risks of mixing two different medications, you should refer them to the licensed pharmacist, who is authorized to provide such information.
Use your best judgment to determine whether a customer's question exceeds the bounds of common pharmaceutical knowledge before answering. As a rule of thumb, refer to a pharmacist for any questions involving patient assessment; the proper administration, dosage, uses, or effects of a medication (whether prescription, OTC, or diet supplement); and for any questions that require a professional opinion or judgment.
Of course, pharmacy technicians should use their best judgment when providing customers with information. In the case of OTC medications, sometimes customers need basic information that is readily available on the OTC packaging. For example, a customer might ask what an analgesic is, what "enteric-coated' means, or which alternative brands are available. These and other routine questions can be safely answered without referring the customer to the pharmacist.
Do not be afraid to admit your lack of expertise. Customers will appreciate that you are concerned enough to make sure they receive accurate information. When a question deals with the effects or administration of a medication, ask the customer to wait for a moment while you get someone who can provide a professional answer to the question. In some instances, you may provide medication-related information when providing refills and when directed to do so by a pharmacist.
What Are the Roles and Responsibilities of a Pharmacy Technician?
The pharmacy technician definition is a health care provider who is responsible for performing a wide range of pharmacy-related functions. The primary role of a pharmaceutical tech is to enable the pharmacist to perform their daily tasks and responsibilities without spending too much time on work that can be done by the technician.
Essentially, the standard pharmacy technician scope of practice is designed to help the pharmacist in any way possible. Pharmacy technicians work under the direct supervision of a licensed pharmacist and are often expected to report their work to the pharmacists before finalizing—especially in the beginning stages of their experience.
To help you get a quick feel for a day in the life of a pharmacy technician, we have provided a list of the typical tasks and responsibilities:
Working with customers directly in person or over the phone and taking written requests for prescriptions and refills
Helping customers with locating OTC medications, and answering general questions that are within your bounds of education and training
Verifying general information to ensure accuracy and completeness
Creating and updating patient accounts or profiles
Preparing medication and affixing labels
Drafting and processing insurance claims and medical records
Filling prescription bottles with medication and/or double checking for accuracy
Handling inventory and maintaining storage supplies
Cleaning work area and maintaining pharmaceutical equipment
Pharmacy Tech Scope Per State
The scope of the pharmacy profession varies according to state laws and regulations. More often than not, those who are interested in becoming a pharmacy technician will be required (at the very least) to register with their state, or earn some sort of license by passing a state-issued exam.
Other states require pharmacy technicians to get certified by passing the PTCB exam through an independent agency.
The following list includes states that require pharmacy technicians to become fully certified before they can take a job at a pharmacy.
Arizona
Idaho
Illinois
Iowa
Louisiana
Maryland
Massachusetts
Montana
New Mexico
Oregon
South Carolina
Texas
Utah
Virginia
Washington
Wyoming
The following states don't regulate pharmaceutical technicians and don't require you to register with the state, or earn a license or certification.
New York
Pennsylvania
Wisconsin
Colorado
Hawaii
While these states don't regulate pharmacy techs, having a license or certification can help you stand out to potential employers and can be beneficial if you choose to relocate to a different state.
Scope of Practice for Hospital Pharmacy Technicians
The pharmacy technician scope of practice may expand in a hospital setting. Pharmacy technicians working in a hospital will have all the same responsibilities of a community technician as well as additional duties and responsibilities.
If you choose to become a pharmacy technician working in a hospital, you will be expected to know more about medications, medical terminology, and healthcare processes than a community pharmacy technician.
Patients will often have questions regarding their medications, doses, and how best to administer them. While it is still important to stay within the standard pharmacy technician scope of practice, your supervising pharmacist may allow or encourage you to assist customers on a deeper level regarding their medications.
In addition to providing a more in-depth level of customer service, pharmacy technicians in a hospital setting will also work closer with the healthcare staff and physicians to confirm medical information, assess the risks of certain medication combinations, and more.
Scope of Practice for Community Pharmacy Technicians
Community pharmacy technicians are those that work in your local pharmacy chain or drugstores, like CVS or Walmart's pharmacy center. Of all the different paths in the scope of the pharmacy profession, this is perhaps the most popular due to high job availability and standard responsibilities and educational requirements.
Community pharmacy technicians work a lot with the customers, face to face or on the phone. They answer questions regarding insurance coverage, recommended doses, prescribed medications or OTC medications, and more—although they are still expected to refer customers to licensed pharmacists for questions that extend beyond their scope of practice.
Pharmacy technicians in a community setting may be required to communicate with insurance providers and healthcare providers as well to verify coverage, confirm patient information, and more. Community pharmacy technicians are also responsible for the day-to-day tasks, such as filling prescriptions, double-checking medications, receiving and stocking inventory, managing storage, maintaining equipment, etc.
What Is the Scope of Military & Emergency Pharmacy Technicians?
While there are many similarities in basic responsibilities and daily job tasks, military and emergency pharmacy technicians should expect a few key differences. For starters, positions in this scope of the pharmacy profession can be very demanding and fast-paced.
Emergency pharmacy technicians need the ability to work well under pressure and respond quickly to sudden, unexpected scenarios. The same goes for pharmacy technicians who choose a role in a military setting, only these positions often require formal military training.
For example, in order to become a military pharmacy technician in the Army, you would need to go through 9 weeks of basic combat training and 19 weeks of advanced individual training. The required training will vary depending on which branch of the military you choose.
Are Pharmacy Techs Allowed to Counsel Patients?
One key difference between the pharmacy technician definition and that of a licensed pharmacist is the ability to counsel patients. licensed pharmacists have the training and education required to counsel patients in regard to their medication, but pharmacy technicians do not and are legally prohibited from counseling patients on anything beyond basic knowledge.
Pharmacy technicians can seek additional training and education required to counsel patients and become a licensed pharmacist, but until then, they must abide by state laws regarding patient counseling.
There are some cases in which counseling a patient may be appropriate. For example, if a patient has a general question about an ingredient in an OTC medication, or if a patient asks for information that is clearly printed on the prescription label of their medication. All other questions should be referred to the licensed pharmacist.
If you are ever unsure about whether or not you are allowed to answer a certain question or provide information, always consult with the licensed pharmacist on staff before you act. In doing so, you can avoid very serious consequences pertaining to both the patient's health and your own legal protection.
What Is Scope in Pharmacy?
The scope of the pharmacy profession is diverse, lucrative, and abundant with advancement opportunities. There are a variety of different pharmacy technician positions, including roles in community, hospital, military, closed-door, government, and compounding settings. Pharmacy technicians can also pursue an advanced path in research facilities and pharmaceutical laboratories.
In addition to variety, pharmacy technicians also have plenty of opportunities to increase their pay and credentials by earning additional certifications and enrolling in specialty programs, such as sterile products, compounding, vaccines, and more. There is also a great opportunity for advancement, with higher-paying positions like Day Lead Technician or Technician Instructor.
Furthermore, the pharmacy industry is a promising career path with an above-average growth rate—according to the Bureau of Labor Statistics—and as the nation's healthcare industry continues to evolve and expand, so too will the role of a pharmacy technician.
Take Your First Step Toward Success
Are you interested in pursuing a lucrative and promising career as a pharmacy technician? At CareerStep, we provide our learners with everything they need to succeed in their chosen career path, starting with our accredited online Pharmacy Technician Training program that you can do at your own pace.
We also supply a wealth of additional resources for ambitious individuals who are looking for more ways to improve their future, like our pro tips for landing your first job as a pharmacy tech.
Explore the possibilities of a brighter future with CareerStep!