Online Animal Care Certificate Programs
If you're looking for a rewarding career, starting a job in animal care could be the right move for you! Through CareerStep's animal care certificates online, you can take the next steps toward a job you love. In our veterinary assistant course, you'll build the foundational skills that can help you prepare to be successful – completely online, at your own pace.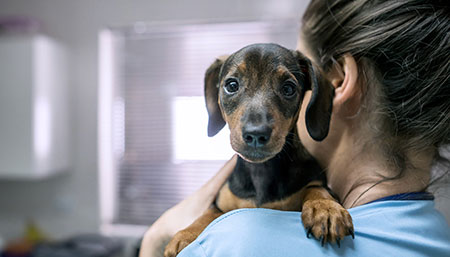 Veterinary Assistant
The pet care industry is growing—fast. This is where you'll gain the skills needed to support veterinarians in the exam room.
Animal Care FAQs
How can I get a job in animal care?
First, decide exactly what you want to do! There are a few different animal care jobs, from being a kennel assistant to a veterinary technician, and each may require different education, training, and credentials.
Do you need to be certified to work in animal care?
It depends on the job! Many animal care jobs don't require certification to work in the field, but some, like becoming a veterinary technician, do. For jobs like veterinary assistant, getting certified is optional but could be a good way to help you stand out from other applicants when you're applying to jobs.
What animal jobs don't require a degree?
Not every job in animal care requires a college degree. In fact, there are many jobs available that may require only a high school diploma or some level of post-high school education or training. Jobs with animals that don't necessarily require you to get a degree include
Veterinary assistant
Wildlife control technician
Wildlife photographer
Animal control
Rescue worker
Dog trainer
Pet groomer