The Online Veterinary Assistant Program
Complete the veterinary assistant training program so you can help animals live long, happy lives.
The Online Veterinary Assistant Program
Complete the veterinary assistant training program so you can help animals live long, happy lives.
Invest In a New Career
Get trained, get hired, and get ahead. Our Vet Assistant Training Program is online by design so you can study at your own pace, wherever and whenever works for you.
8 Months Full Access

$29,780 Median Salary*

19% Predicted 10-Year Job Growth*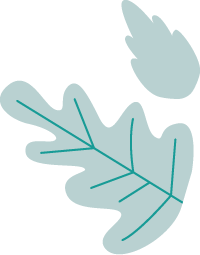 Unleash your full potential for a more fulfilling life and career. We'll help.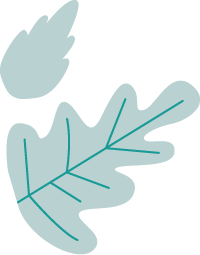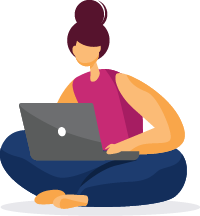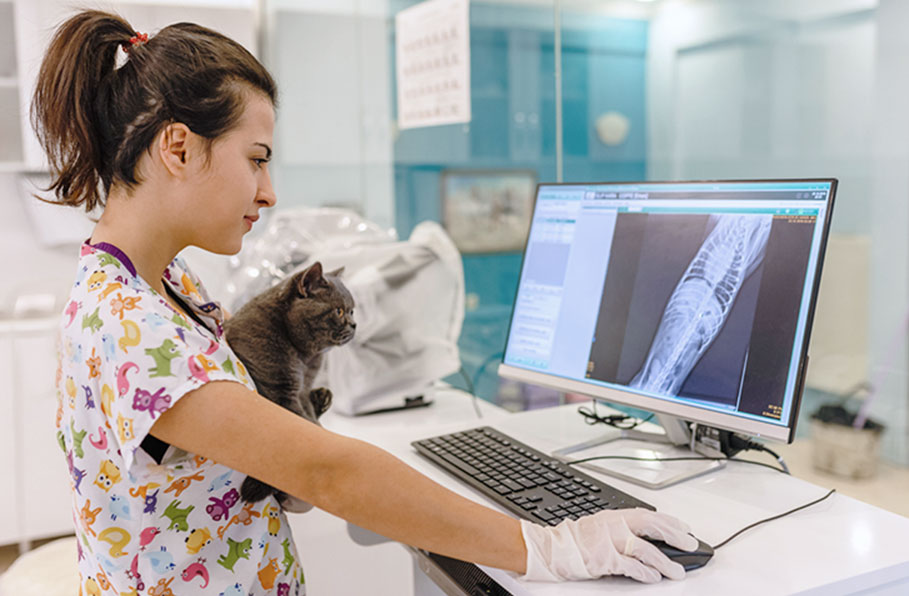 This Could Be the Perfect Job for You
Do you have a soft spot for animals—all that adorable, fluffy tail wagging and purring? Want to help pet owners keep their four-legged friends healthy and happy?
Then you'll make a great veterinary assistant!
See full job description >>
6 Reasons to Complete Your Veterinary Assistant Training With CareerStep
Train on your schedule.
24/7 web access means you can learn whenever and wherever you want—fitting study time in and around your other commitments.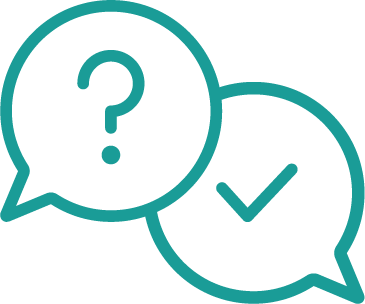 Ask for help anytime.
Your training is online, but you're never alone. Real people support you every step of the way via phone, live chat, and email.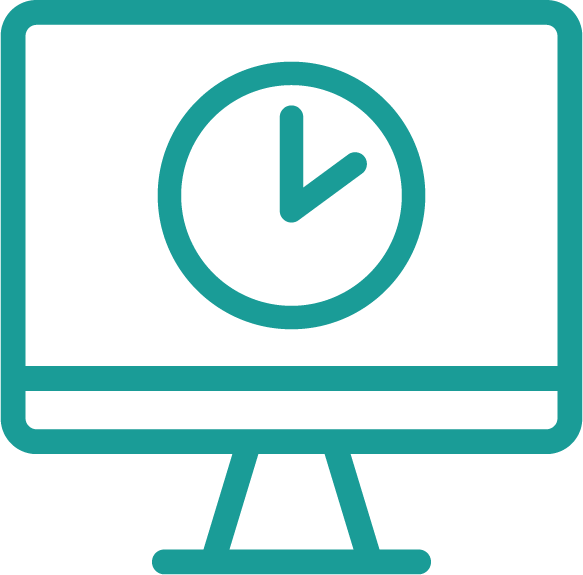 Get in and out quickly.
You can complete your training and be ready to start working at a veterinary office in less than 8 months.
Jumpstart your critter career.
Our veterinary assistant training program proves your passion and looks great on your resume. It helps open doors and is a great first step toward becoming a veterinarian.

Help animals every day.
Be the person those big sad eyes see in their hour of need. It's a good feeling to be trained and able to give pets the TLC they require when they're injured or ill.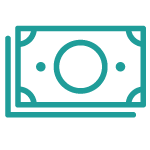 Earn dependable income.
The median annual wage for veterinary assistants is $29,780.* That, plus the potential for benefits, buys you peace of mind.
Our Happy Learners Say It Best
I give them five stars because of how much support I have received. They were amazing at helping me throughout the starting process. And when I ran into trouble with my courses, they always responded to me in a timely manner. My advocates are amazing. Glad I chose them to work with.
I love CareerStep. The support team is so very helpful and never failed me!
1. Start today.
Begin your training (and transformation) right now.
2. Learn your way.
Complete your training on your own terms.
3. Get hire-ready.
Prepare to take valuable certification exams.
Ready to Dive In?
Sign up online now to start the Veterinary Assistant program.
By submitting this form, I agree that CareerStep may contact me regarding their programs and services via email, telephone, or text message to the email address and phone number provided, including the use of automated technology to any wireless numbers. I understand that this consent is not required to make a purchase. Message and data rates may apply.
Program Details
Each veterinary assistant training program module—packed with valuable knowledge—will bring you one step closer to finding an exciting veterinary assistant job.
>  8 Months Full Access
>  Self-Paced Study
>  Anywhere, Anytime Learning
>  1:1 (Human) Support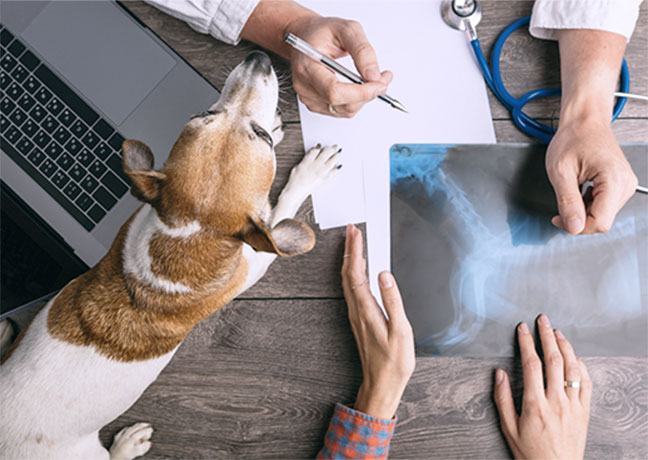 What You'll Learn
Our elite veterinary assistant training program thoroughly trains you on everything you need to know, so you can begin working from day-one with confidence.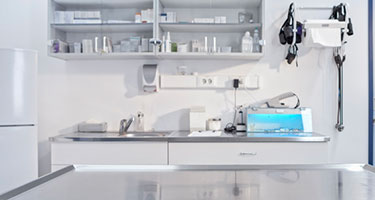 Veterinary Procedures
Become familiar with the standard practices and procedures for office/administrative work, hospital and exam room caregiving, and laboratory methodologies.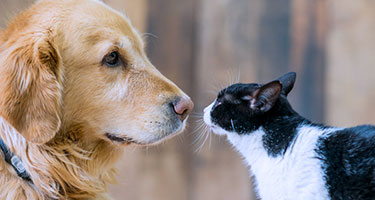 Small & Large Animal Nursing
Get to know more about all the animals you'll likely encounter as well as how to do surgical preparation and assisting.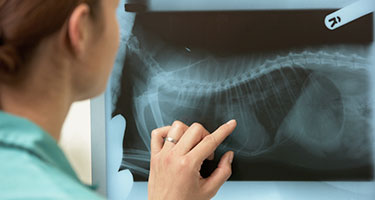 Pharmacology & Radiology
Learn about animal pharmacy and pharmacology, radiology and ultrasound for imaging, and treating your shaggy patients.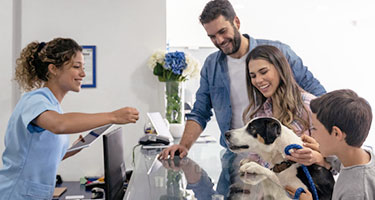 Communication & Client Relations
Master vet lingo and learn to speak like a pet pro. Discover how to handle a range of situations, usually happy, but like all medical care, sometimes sad.
Veterinary Assistant Program FAQs
What will I be doing as a veterinary assistant?
You'll help veterinarians and veterinary technicians care for injuries and treat illnesses. A typical day in your new life as a veterinary assistant will probably include feeding and bathing animals, assisting with exams, cleaning and prepping equipment and facilities, and occasionally even providing a bit of emergency first aid.
How much can I make as a veterinary assistant?
Salaries vary by employer, location, and experience, but according to the U.S. Department of Labor the median annual wage for veterinary assistants is $29,780.* You may also qualify for invaluable healthcare benefits.
How do you become a veterinary assistant?
Pretty easy. No specific skills or experience is required. Just be at least 18 years old and have a high school diploma or General Education Development (GED) certificate. Optionally, you can pass the CareerStep Pre-Training Assessment Test. Then, sign up for and complete our veterinary assistant training program. Next, use our career assistance to land your first awesome job in the wonderful world of animal care.
Are payment plans or financial assistance available for my veterinary assistant training?
CareerStep offers a variety of flexible payment options, installment plans, and even discounts for U.S. veterans, Active Duty service members, and their spouses. As CareerStep is not an educational institution, we cannot offer—or accept—traditional financial aid, such as student scholarships, loans, and grants through FAFSA. However, our low-cost training programs are affordably priced and our goal is to find a payment solution that meets your needs.
Do I have to be certified to work as a veterinary assistant?
Certification is not required to work as a veterinary assistant. However, employers often prefer to hire trained staff. (For veterinarians, it's easier than providing the training themselves, plus trained assistants are ready to work immediately.) Unquestionably, professional training makes you more desirable to employers and sets you apart from other job seekers.
Get Trained. Get Hired.
This program includes quality training, career support, and coaching. It's a faster, cheaper alternative to traditional schooling.
$2,999 for full program access
Or call now: 800-411-7073 >>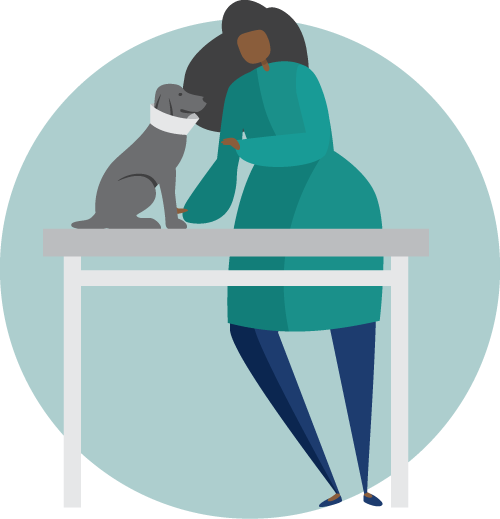 Tight Budget? You've Got Options.
Make Small, Easy Payments
We're flexible and totally committed to working with you to find affordable down and monthly payments.

Let the Government Pay Your Way
My Career Advancement Account (MyCAA) funds for military spouses are available now and may cover up to 100% of your program cost!
Back to top
*Bureau of Labor Statistics, U.S. Department of Labor. "Veterinary Assistants and Laboratory Animal Caretakers." Occupational Outlook Handbook. Accessed May 2, 2023.
Statements found in the United States Department of Labor Occupational Outlook Handbook are not a guarantee of any post-graduation salary, in part because the data used to create the Occupational Outlook Handbook includes workers from differing educational backgrounds, levels of experience, and geographic areas of the country.