Veterinary Assistant Job Description
Get ready to be one of those weirdos who loves their job.
Get Started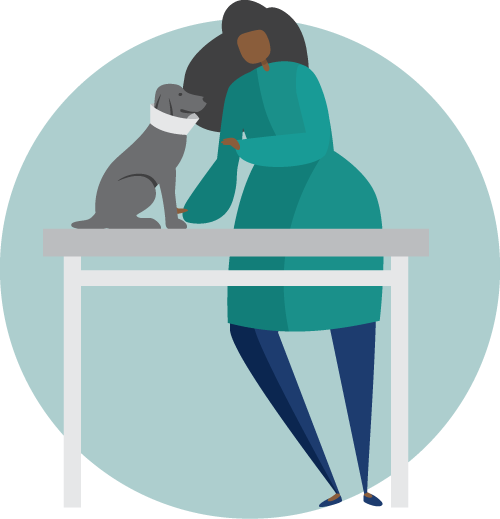 Job Duties
You'll be a critical part of the medical team, helping veterinarians and veterinary technicians care for injuries and treat illnesses. A typical day in your new life as a veterinary assistant will probably include the following tasks:
Feeding, bathing, and exercising animals (the fun stuff!)
Restraining animals during examinations and laboratory procedures
Monitoring and caring for animals after surgery
Helping to provide emergency first aid to sick and injured animals
Maintaining and sterilizing surgical instruments and equipment
Cleaning and disinfecting cages, kennels, and examination and operating rooms
Work Environment
Veterinary assistants mostly work for veterinary service providers, such as private practices, clinics and animal hospitals, ER and after-hours facilities, and labs. Job opportunities also exist in schools and universities, research facilities, rescue groups and shelters as well as retail settings and pet stores. Wherever animals need help, they need you.
Some facilities are open 24/7, so night and weekend schedules are also an option if that works better for you.
Keep in mind, too, that working as a veterinary assistant (and gaining priceless real-world experience) is a great first step on a lifelong career path towards becoming a veterinarian or vet technician. Veterinary assistant training is also a huge plus if you want to do rescue or volunteer work. (And achieve your pet sainthood.)
Pay Scale
Salaries vary by employer, geographic location, and experience, but the Bureau of Labor Statistics estimates the median annual wage for veterinary assistants is $29,780.*
Besides steady pay, you may also qualify for invaluable healthcare benefits.
Industry Demand
Becoming a veterinary assistant is a great career choice. And it's getting even better because it's one of the fastest growing industries in the country. In fact, the U.S. Department of Labor estimates that the demand for veterinary assistants will grow 19% by 2031. That's 20,000 new jobs in the coming years.*
*Bureau of Labor Statistics, U.S. Department of Labor. "Veterinary Assistants and Laboratory Animal Caretakers." Occupational Outlook Handbook. Accessed May 2, 2023.
Statements found in the United States Department of Labor Occupational Outlook Handbook are not a guarantee of any post-graduation salary, in part because the data used to create the Occupational Outlook Handbook includes workers from differing educational backgrounds, levels of experience, and geographic areas of the country.